---
It is important to have common plan with both the public and private stakeholders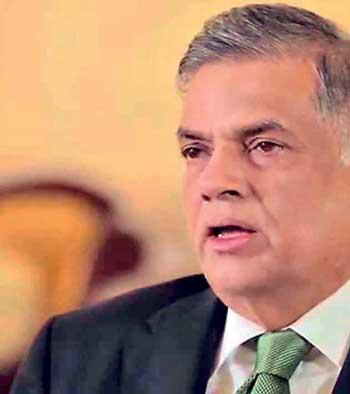 By Yohan Perera
Former Prime Minister Ranil Wickremesinghe yesterday came up with several proposals which he said the government could face from April 4 to 11 as warned by some sections in the health sector.
"The heath sector had warned that COVID-19 would reach its peak from April 4 to April 11. Therefore it is important to have common plan with both the public and private stakeholders in the health sector on what best options we could follow. Initiate a dialogue between all stakeholders in the health sector, go for production and importation of ventilators, masks, ensure that there is sufficient beds in hospitals, initiate private-public supply chain of essential goods, even use ordinary three wheelers other than taxi service companies and impose special laws as done by many other countries worldwide" Mr. Wickremesinghe said in a statement.

"One must also consider the statement made by the GMOA which said there may be 500 cases of COVID-19 in Sri Lanka. The US has become a centre of the pandemic which is a shift from Western Europe. The situation in India should also be taken into consideration as it is our neighbour" he added.

The former Prime Minister also suggested that the government initiated a dialogue with Japan to get a part of medical equipment that have been brought down to that country to be used for the 2020 Olympics.
"The heath sector had warned that COVID-19 would reach its peak from April 4 to April 11. Therefore it is important to have common plan with both the public and private stakeholders