---
By Yohan Perera in Galle
Those who criticize and ridicule the judiciary should be punished, Prime Minister Ranil Wickremesinghe said over the weekend.
Prime Minister Wickremesinghe expressed this sentiment during the opening of a new Pradeshiya Sabha in Niyangama, Galle on Saturday.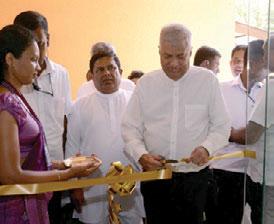 "One can give his or her opinion on certain judgements but it is not fair to ridicule judges by talking of their ethnic group religions caste or creed," the Prime Minister said.

"Some say Buddhist judicial officers are not given priority when appointments are being made. I looked into this issue and found out that majority of them were Buddhists while there were two Catholics." he added.

He said various powerful people in the past used to call judicial officers and threaten them if they did not give verdicts they want, but this government had changed everything.

"Professor G. L. Peiris recently said he will go to Courts and see that the provincial council election is held. He is saying it because he has faith on the judiciary." the Prime Minister said.
Mr. Wickremesinghe then focused on the 19th Amendment. Accordingly, he said many countries have decided to adopt such legislations.

He said most of these countries have commended on the Constitutional Council. The CC is independent as no party holds a majority.

He said in some countries the CC members are appointed by the Legislature or by the Senate. However, the independence cannot be maintained that way.