---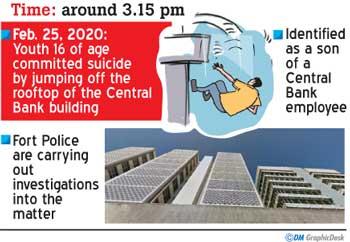 By Sheain Fernandopulle
A 16-year-old boy was killed yesterday when he fell off the Central Bank building, Police said.

They said he was identified as the son of a senior CB officer and had allegedly jumped from the rooftop.
The victim has also been identified as a resident living in Kahanthota Road at Malabe.

The body has been placed at the Colombo National Hospital for the postmortem and further investigations are being carried out as to figure out whether it was a suicide or not.