---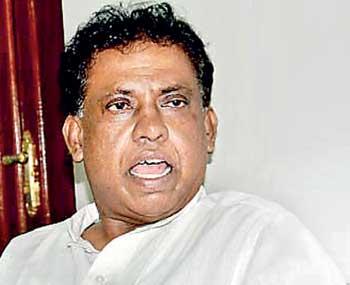 By S. Aslam
Former Northern Provincial Council member M.K. Sivajilingam said that Tamils would not support any Sinhalese or South based candidate at the forthcoming Presidential election.
Speaking on the forthcoming Presidential election, Sivajilingam stated that Tamils were not in a position to trust any of the Sinhalese leaders. The Maithri - Ranil Government that came into power with the help of the Tamil people did the same thing to the Tamils as the previous governments had done.

Despite the TNA having supported this government unconditionally, Tamil prisoners are still languishing in prisons, lands grabbed by the armed forces are still under occupation, the accountability process is in limbo and the process to bring about a new Constitution has been stalled, the vociferous Tamil nationalist politician said.

The former PC member said that the TNA has been saying for the past four years that a solution to the ethnic problem would be found within that year, but nothing happened.
He said since no government was prepared to resolve the issues pertaining to the Tamil prisoners, lands occupied by the armed forces, people who disappeared during the war and to mete out justice to the people killed during the last phase of the war, international pressure on the government was inevitable.
No government was prepared to resolve the issues pertaining to the Tamil prisoners, lands occupied by the armed forces