---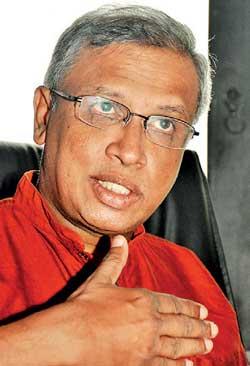 By Yohan Perera
The Tamil National Alliance ( TNA) is seeking a dialogue with key government officials in the North to get the monies released from deposits maintained by local bodies in the province as emergency funds, former TNA MP M. A. Sumanthiran said yesterday.
Mr Sumanthiran told the Daily Mirror that they were trying to release these funds to provide relief to the people in the province.

"These monies were deposited by the local bodies to use for emergencies such as this when the country is hit by the COVID-19 epidemic. Therefore we need to get them released " Mr Sumanthiran said.

"The people in the North are not getting adequate relief material such as food at the moment. On the other hand, 80 per cent of the population in Jaffna in particular are self employed. These include those who depend on fishing. Therefore they need funds for their survival. This is why we are keen on getting the emergency funds released," he added.
Mr Sumanthiran said there have been no reports on any new cases of COVID-19 cases after it was reported that one person who had come in contact with the pastor who was said to have conducted a prayer service in Jaffna. It was also reported that this pastor was tested COVID-19 when he went back to Switzerland after conducting the prayer service.
The people in the North are not getting adequate relief material such as food at the moment. On the other hand, 80 per cent of the population in Jaffna in particular are self employed