---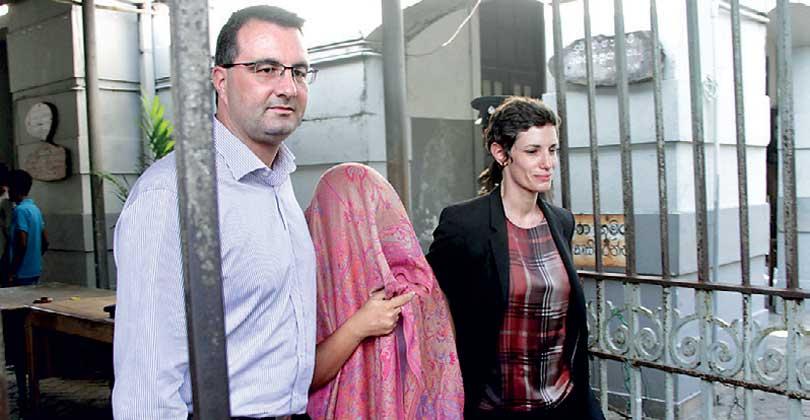 Swiss embassy local staffer leaving court premises after being granted bail.
Pic by Pradeep Dilrukshana
By Yoshitha Perera
Swiss embassy local staffer Garnier Banister Francis, who was arrested on the charges of providing fabricated statements to the Criminal Investigation Department (CID), was yesterday granted bail with two sureties of Rs.500,000 each by the Colombo Chief Magistrate. The sureties should be from the area the suspect resides permanently.
When the case was taken up before Colombo Chief Magistrate Lanka Jayaratne, the suspect revealed that her permanent residence was at White House Apartment in Maligakanda. Accordingly, the magistrate ordered the suspect to produce a certificate from the Grama Sevaka officer in the area on the next hearing date.

The magistrate ordered the suspect to sign a bail bond by providing her permanent residential address. "If there is a change of address in the future, you have to inform it to court. According to the Sri Lankan law, when a person is released on bail, he or she has to provide the exact address in the bail bond and the court will send relevant orders to that address," the magistrate informed the suspect.

The magistrate noted that it was the suspect's responsibility to stay at her permanent residence and support further investigations. "If the suspect has provided a wrong address in the bail bond, it is an offence according to Sri Lankan law. In that case, the court can cancel the bail order and take necessary action against her," the magistrate said.
Moreover, the court imposed a temporary travel ban on the suspect and ordered that her passport be handed over to court. However, if the suspect obtains a fresh passport under any other law, the court should be informed.

Representing the AG's Department, Senior State Counsel Janaka Bandara stated that the suspect might receive immunity through the Swiss embassy and abscond court. He informed that the suspect's mother and three children had already left for Switzerland and hence, if the suspect was granted bail, she too would receive assistance from Switzerland as an asylum seeker.

Denying such remarks, Defence Attorney Upul Kumarapperuma said the mother of the suspect and three children were currently on vacation in Singapore and would return before the next school term commenced. The magistrate then questioned the CID as to how it found evidence to support the fact that some of the family members of the suspect had left for Switzerland.
In response, CID officials said such intelligence was received by an official attached to the CID unit in BIA but that it lacked a written statement from the airport.

Before concluding the submission, SSC Bandara said BIA officials confirmed that family members of the suspect had booked tickets to Singapore which was only a transit point. "After several days, they might travel to Zurich and confirm it on the next hearing date," he informed the magistrate.
SSC stated that the suspect might receive immunity through the Swiss embassy and abscond court. He informed that the suspect's mother and three children had already left for Switzerland and hence, if the suspect was granted bail, she too would receive assistance from Switzerland as an asylum seeker