---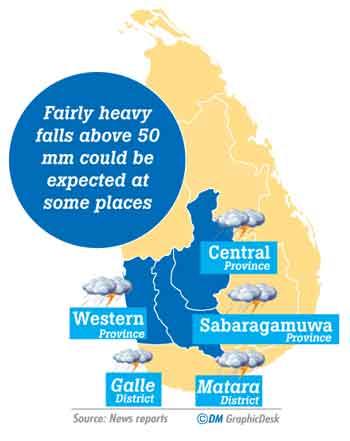 By Chaturanga Samarawickrama
The sun is expected to be directly over Sri Lanka from Monday (5) up to April 14, as a result of its apparent northward relative motion, the Department of Meteorology said yesterday.
Accordingly, the nearest areas where the sun is overhead today are Colombo, Malwana, Kosgama, Sitawaka, Maldeniya, Rozella, Talawakele, Sita-Eliya, Ettampitiya, Passara, Warralanda and Paladi Kalapuwa around 12:13 noon.

Meanwhile, the Meteorology Department said showers or thundershowers would occur at several places in the Western, Sabaragamuwa and Central provinces and Galle and Matara districts in the evening or night.

Fairly heavy falls above 50 mm could be expected at some places in the above areas.

Other than that, mainly fair weather would prevail elsewhere over the island.

Misty conditions could be expected at some places in Central, Sabaragamuwa and Western provinces during the morning.
Meteorology Department said showers or thundershowers would occur at several places in the Western, Sabaragamuwa and Central provinces and Galle and Matara districts in the evening or night