---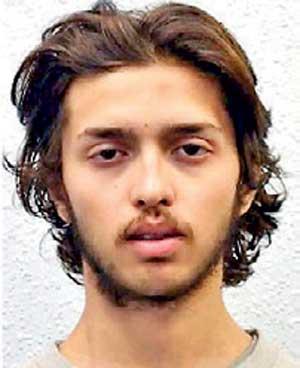 The knife-wielding terrorist who was shot dead by Police in London on Sunday during a crazed stabbing spree had been named by the UK Police as Sudesh Mamoor Faraz Amman, a convicted Islamist terrorist, who had extended family in Sri Lanka, the Times of India reported.
The report in the TOi said:

"The 20-year-old ISIS and al-Qaeda supporter stabbed two people in south London in broad daylight on a busy high street just before 2 pm in what Metropolitan police quickly declared as an "Islamist-related terrorist incident".

Amman was jailed in December 2018, aged 18, for Islamist-related terrorist offences at the Old Bailey but was released from prison early just days ago. He is thought to have been living in a South London bail hostel when he carried out the attack.

Wearing a fake explosive vest, he stole a £3.99 10-inch kitchen knife from a convenience store and stabbed two people in Streatham High Road, leaving one man, in his 40s, in a life-threatening condition. Plainclothes police officers who had been following him on foot, shot him dead with handguns, outside Boots Pharmacy, in scenes reminiscent of an action movie, before hordes of armed police arrived.
The 20-year-old ISIS and al-Qaeda supporter stabbed two people in south London in broad daylight