---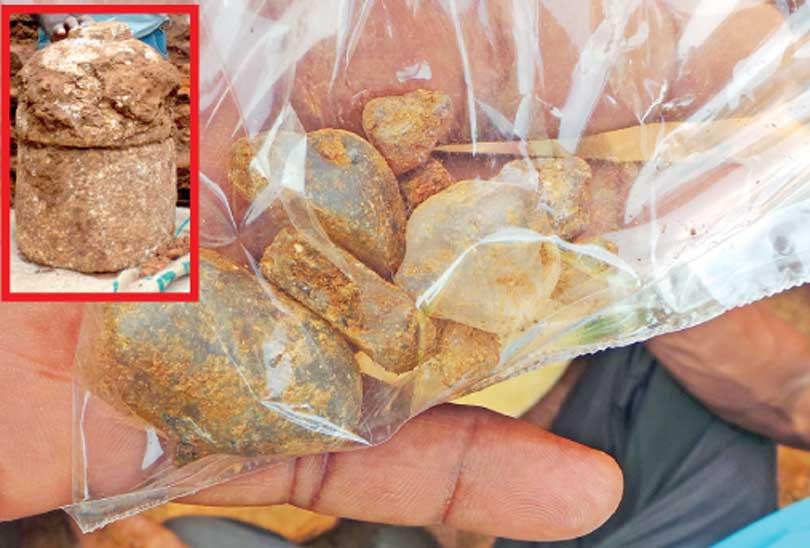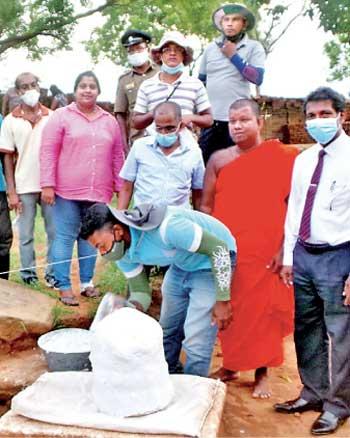 By Kumara C. Liyanarachchi
A stone casket and several other artefacts including a kind of precious stones and beads had been discovered during the ongoing excavations in the Deeghavapi Cheithiya in Ampara. Archaeologists said the casket which was about 18 inches tall had been placed on a stone slab and paid homage by lighting an oil lamp.
Ampara Govt. Agent D.L.M. Bandara took it over and provided protection pending further research. Archeologists said Deeghavapi Cheithiya had been built during the reign of King Saddhatissa (137-119) and that the Southern Wahalkada entrance was a subsequent construction. They pointed out that the stone inscription near Wahalkada dated back to the first century AD.

Director-General of Archeology Senarath Dissanayake said findings in the Deeghavapi site would be subject to further research that would lay bare a host of historical facts about the Cheithiya.

Chief Excavation Officer Senaka Chandrakumara, Development Officer B.A. Anuruddha Priyadarshana, and Excavation Asst. D.R. Abeykoon are carrying on excavations on the instructions of Ampara District Asst. Director of Archaeology, S.A.G. Priyantha.
Findings in the Deeghavapi site would be subject to further research