---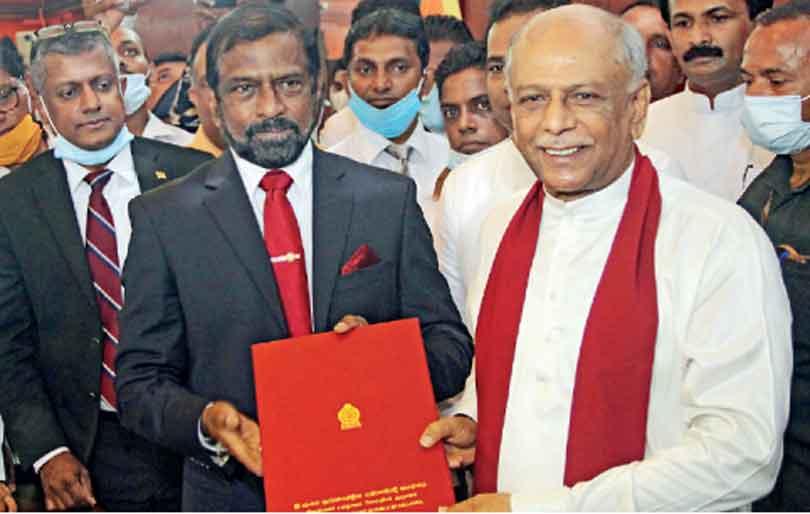 The Ministry has also been entrusted with new responsibilities which would require the assistance of other ministries and departments
By Kalani Kumarasinghe
Foreign Minister Dinesh Gunawardena said that Sri Lanka will follow a friendly policy towards all countries. Minister Gunawardena made these comments after assuming duties at the Ministry of Foreign Affairs yesterday.
"Sri Lanka will be a Kalyana Mithra. A friendship in difficulty and happiness is our foreign policy; a non-aligned, neutral and friendly foreign policy as declared by the President. We have no enemies. We have friends. That is how Sri Lanka has achieved its respect across the world, which we will further," the Minister said.

He added that as Sri Lanka was a pioneer of the Non-Aligned Movement, the country has friends across the world. "I hope our diplomatic vision will enable us to take the necessary steps to bring not only friendship with other countries, but also with Sri Lankans across the world." Minister Gunawardena also stressed for Sri Lankan mission's need to operate more closely with its citizens across the world. "The President has got an overwhelmingly strong mandate, unprecedented in the parliamentary electoral history. This electoral system never produces two thirds majority. Sri Lanka is the first country to produce this electoral victory when compared with other countries. It is a strong mandate for a strong government, which will attract trust, support and confidence internationally," he added.

The Foreign Minister said that the Ministry has also been entrusted with new responsibilities which would require the assistance of other ministries and departments. "We will have to endeavour in new areas entrusted to us, especially the Department of Commerce which can play a very important role. The post Covid-19 world is different. With the recession across the world the challenges will have to be overcome with the support of other ministries and departments. The Minister also commented on the responsibility of foreign ministry officials to increase exports, investments and trade. "New technology and inputs into the foreign ministry can play a stronger role as we face the budget," he said.

Meanwhile Secretary to the Ministry Professor Admiral Jayanath Colombage also speaking at the event said the country's foreign policies must be re-valuated. "We have taken different routes in our foreign policy. It has changed with the passage of time. We can see how our foreign policy was handled closer to the 2019 period. But we now need to revisit our foreign policy and see whether we have done the right thing. If not make the necessary course corrections and to go where we want to be in five years and in ten years," Colombage said.
Both the Foreign Minister and Secretary noted that Sri Lanka would continue to defend its independence, sovereignty, national security and the unitary state. "As an independent and sovereign state, we would not be a party for the violation of the constitution or give up defending our heroic soldiers. But we are committed as members of the United Nations to continue with Sustainable Development Goals, especially in the post Covid-19 world," Minister Gunawardena said.