---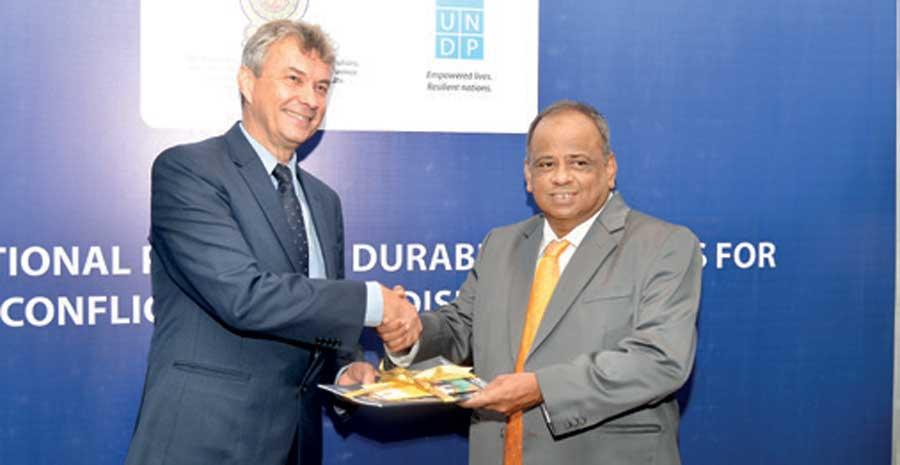 By Sandun A. Jayasekera
As a part of the durable solution, Sri Lanka's mine action programme has contributed to clear landmines and ensure release of lands for safe and secure habitation. The Suspected Hazardous Area of 1,302 Sq.km has been reduced to 25 Sq.km, Ministry of Rehabilitation, Northern Development and Hindu Religious Affairs Secretary V. Sivaganasothy said.

The balance area to be cleared is only 25 Sq.km. Further, Sri Lanka has acceded to the Mine Ban Convention (Ottawa Convention) and Halo Trust, and Sri Lanka Army are working closely with the National Mine Action Centre under the Ministry of Rehabilitation and Resettlement to clear the balance land mines, he added.
Addressing the launching of the 'National Policy on Durable Solutions for Conflict Affected Displacement' by the Ministry of Rehabilitation, Northern Development, and Hindu Religious Affairs and sponsored by the UNDP at the Movenpick in Colombo, Mr. Sivaganasothy went on to say that many development partners have contributed for the mine clearance and last week the Government of Norway had also pledged its support with US $ 7 million.

"Victim Assistance, Mine Risk Education Programmes, Stockpile Destruction Programmes are also incorporated into the Mine Action Programme Intervention and Sri Lanka's vision is to become a Mine-Free Country by year 2020," Mr. Sivaganasothy stressed.

Sri Lanka's 30-year old civil conflict has created displacement of a large number of people (over one million) both internally and externally. As a result of this conflict, not only displacement, but also the economic and social conditions were adversely affected. The conflict situation also created Internally Displaced Persons (IDPs), Refugee Returnees, and conflict affected families, he said. In a Sri Lankan context, it is noted that majority of those displaced have now returned to their homes or relocated in other areas and initiatives are taken to resettle the balance IDPs and refugee returnees some of who are 2nd generation families still to be resettled.

Jorn Sorensen, UNDP Sri Lanka Resident Representative said durable solutions for refugees are essentially about the protection of fundamental human rights.
"Whether it be voluntary repatriation, local integration or resettlement, every refugee, IPD or returnee deserves a durable solution, a solution that not only brings them back into their homeland, but a comprehensive package that helps them integrate back into society", he emphasized. Women in this instance - especially female headed households - are particularly vulnerable which is why gender equality is at the heart of everything we do at UNDP.

The Policy lays the foundation for the establishment of a rights-based set of principles and standards to guide all stakeholders working with and for displacement affected communities, in accordance with Sri Lankan and international law.