---
Will not be able to depend on China and foreign direct investments to move out of the current economic crisis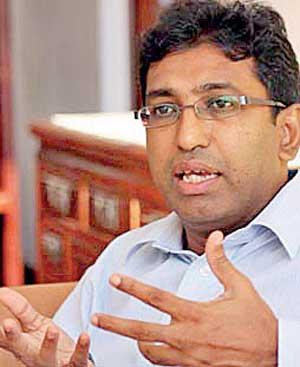 By Yohan Perera
Sri Lanka will not be able to depend on China and foreign direct investments to move out of the current economic crisis, SJB MP Dr. Harsha de Silva said yesterday.
The government has claimed that Sri Lanka's foreign direct investments will grow by $ 2.5 billion in 2021
Dr. de Silva told a media conference that Sri Lanka was actually losing options.
"One cannot expect China to play Santa clause and provide loans to Sri Lanka as that country is also facing difficulties. China has provided credit to many countries and its banks have suffered a crisis as many of these countries who borrowed are unable to repay the loans given the present global crisis," Dr. de Silva said.
"The government has claimed that Sri Lanka's foreign direct investments will grow by $ 2.5 billion in 2021. However the LOLC and China Harbor Corporation Ltd. agreement for investment in Port City for one billion dollars will be a long term one and will be of two stages. This he said will take years to become a reality. Therefore it will not be possible to collect $ 5.5 billion which will be needed to meet debt services next year. Sri Lanka's foreign reserves as of now is $ 5.3 billion out of which $ 1.3 billion is forward bookings. In addition $ 400 million out of the remaining amount are in the form of gold. At the same time the weekly report put out by the Central Bank had revealed that Sri Lanka needs $ 5.9 billion to meet debt services in 2021," he said.
"What Sri Lanka usually does is go in for a roll over through foreign sovereign bonds. This has also become impossible as Sri Lanka will not have that opinion as a result of high interest rates it has to pay. Rates of Sri Lanka's foreign sovereign bonds for June 2021 is said to be 29 per cent in the secondary market. It is expected to rise up to 31 per cent in June 2022," he added.

"On the other hand it will not be possible to rely on import curtailment as Sri Lanka's spending on consumer goods importation only accounts to 20 per cent of the total import expenditure while the rest accounts for importation of capital goods such as machinery.

Economic growth will go down if importation of capital goods are curtailed," he also said.

Therefore the MP said the only option left for the government is to go for a debt moratorium with the IMF like 70 other countries have done.