---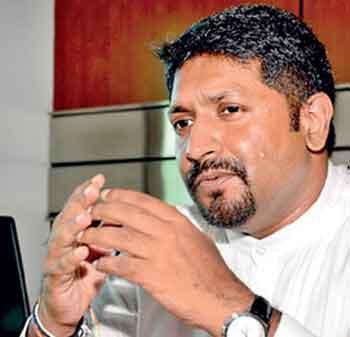 By Yohan Perera and Pushpakumara Mallwaarachchi
Sri Lanka was lending money to the UK during the era of former Prime Minister the late D.S. Senanayake though it has become indebted to almost all powerful nations at the moment , UNP Deputy Leader Ruwan Wijewardene said yesterday.
Mr. Wijewardene who was speaking during a ceremony held at Botale Walawwa to mark the 69th death anniversary of Mr. Senananayake who founded the UNP.

"Sri Lanka did not owe any money to any other country during the time of late Prime Minister Senanayake while no funds were borrowed for the Gal Oya project which he initiated. He did not think of his pocket but only focused on the wellbeing of the people," Mr. Wijewardene said.
" Mr. Senanayake maintained a sound diplomatic relationship with all nations including those in the West and countries such as China. Sri Lanka lent money to the countries such as the UK during his time," he added.
"He was accused of spreading Malaria when he started the colonization programme. However Mr. Senanayake saw to it that medical assistance was available for those who were settled in those colonies. He was able to control the spread of malaria unlike today where the spread of COVID 19 is hardly controlled. The authorities' today claim that the Medical Research Institute had given its approval for the Chinese vaccine. However this claim is made after four directors of the institute have resigned from their posts," he said.

" The British ridiculed him when he started his struggle for independence. However Mr. Senanayake managed to bring the Tamil Muslim and Sinhalese political groups together and form the UNP and to bring freedom to the nation," he said.

UNP General Secretary Palitha Range Bandara said UNP will go on the path of late Mr. D S. Senanayake and bring stability to the nation.