---
Will get into a social pact with the people: Sajith
We need able people to work for the betterment of the nation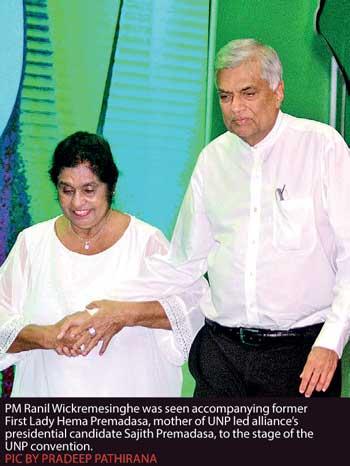 By Yohan Perera

The UNP led alliance's presidential candidate Sajith Premadasa yesterday said he will get into a social pact with the people and thereby create a new industrial and social revolution if elected to office.
Mr. Premadasa who addressed the UNP convention in Colombo yesterday said this pact which actually be an agenda of the people and carry a specific timeframe.

"We need able people to work for the betterment of the nation. We need qualified people and professionals, experts and the knowledgeable. I will work with the Prime Minister to form an able administration. I am willing to get into a transparent social pact to fulfil this mission. This would be the beginning of a development battle. There will be a fixed time table for this programme," Mr. Premadasa said.

He then came up with a set of pledges which included the setting up of an administration without corruption and nepotism, to safeguard the unborn, newly born and mothers, creating a free education system by carrying forward the achievements which the present government had made in the sector, free health services will be further strengthened, highest possible allocation will be made for health, set up IT colleges in each division, English language schools and introduce new women and youth charters which would have legal effect.

"We will give priority to national security and security forces will be an advanced lot. We will create a new defence system that could face modern terrorism. Defence sector will be made independent. We will treat the security forces with gratitude," he said .

Mr. Premadasa also pledged to adopt a positive foreign policy. "We will never sign international agreements which will affect the nation adversely," he said.

Also he pledged to provide concessions for farmers, to create a new industrial revolution, a new poverty alleviation program in addition to Samurdhi and to turn state institutions which have become a burden will be turned into new joint ventures.

"I don't have a family or a generation to safeguard. My intention is to safeguard the people and we will administer according to ten principles preached by the Buddha I will fulfil the duty entrusted to me by the party with diligence. I got this opportunity today as there is a party leader who is willing to make sacrifices. I have got this opportunity also because of the approval received from the UNP working committee, parliamentary group allies and the endorsement given by the people. Speaker Karu Jayasuriya also gives his blessings and through his sacrifice," he said.
---
I have moulded new generation of leaders in UNP: Ranil
By Yohan Perera
The UNP led alliance's presidential candidate Sajith Premadasa is one of the few new generation of leaders who would take over the party in the future, Prime Minister Ranil Wickremesinghe said yesterday.
After officially naming Mr. Premadasa as the party's candidate for the presidential elections at the party's convention in Colombo, Mr. Wickremesinghe said he had achieved a task of creating a new generation of leaders in the UNP.

A new generation of leaders has now emerged from the UNP. I can state with pride that I have achieved this task of creating such leaders. We have created a new leadership to take UNP to greater heights. Our Deputy Leader Sajith Premadasa is one of the future leaders we have created. I had the opportunity of making him a candidate at the 1994 general elections when he took up politics after his father's demise. I was able to see that he becomes an MP, a deputy Minister, a cabinet Minister, Deputy Leader of UNP and now the presidential candidate of our party," the Prime Minister said.

He said the party should see to it that a female leader also emerges in the future. "We see several young leaders here today. However there is a shortcoming. I have to state that in public. There is no woman who could be an emerging leader in the UNP though the country's female population is more than 50 percent. We have to overcome that shortcoming within the next decade," he said in this regard.

"Our party suffered whenever there were divisions among ourselves. There were divisions in our party in 1955 and we apparently lost the 1956 general elections. There were divisions in the UNP in 1991 and we lost in 1994. We lost in 1970 because of divisions. If divisions emerge in the party again we will be defeated. I as the party leader will see to it that the party will not be divided in the future. Our objective should be to win again and again. We were in power for 17 years and then remained in opposition for a longer period. We managed to come to power and formed a government. This government crept towards a presidential election despite efforts made by the opposition to topple it. Don't let go of power once you gain it," the Prime Minister added.

"We will not put anyone in jail. What more do you want?. Is there an alternative to us? Is Angulimala an alternative? Will he attain enlightenment or will he bring white vans again. What we need is an export based economy and a digital economy. Let's march forward with this objective in mind. We have to win the presidential election first and then to win the general elections," he also said.