---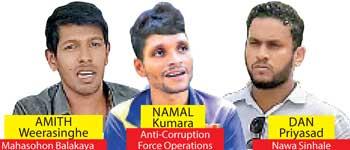 By Darshana Sanjeewa Balasuriya
Mahasohon Balakaya leader Amith Weerasinghe, Anti-Corruption Force Operations Director Namal Kumara and Suresh Priyasad alias Dan Priyasad were also among those arrested yesterday in connection with the violence unleashed on Monday, police said.
Kumara was in the limelight some months ago when he revealed an alleged plot to assassinate some VIPs. Amith Weerasinghe was arrested in Teldeniya while Namal Kumara was arrested when he arrived at the Warakapola Police to lodge a complaint.

Police said the suspects were taken in for questioning by a special police team led by an SP in connection with recent incidents of violence that took place in the country.

Weerasinghe was in remanded custody for more than six months last year in connection with the violent incidents which took place in Digana in March 2018. Meanwhile, Suresh Priyasad alias Dan Priyasad was also arrested by the Colombo Crime Division (CCD) yesterday in connection with these incidents. The Police had gone to Dan Priyasad's home at Meetotamulla to record a statement. But he was not in at the time. However, he was later arrested when he surrendered to the CCD through a lawyer.
The suspects were taken in for questioning by a special police tea