---
Exists, entrances completed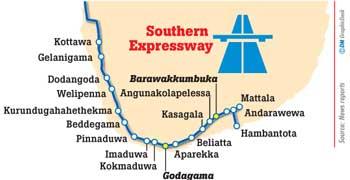 By Chaturanga Samarawickrama
The Godagama-Barawakumbuka stretch of the Southern Expressway (E-01) will be opened for public use tomorrow by President Gotabaya Rajapaksa and Prime Minister Mahinda Rajapaksa at the Godagama interchange at 3.00 p.m, E-01 Deputy Director R.A.D. Kahatapitiya said.
He said motorists could travel between Katunayake and Hambantota in three hours 45 minutes. once the 96-kilometre stretch is operational.

The Godama-Barawakumbuka stretch is as follows: Godagama-Aparekka (13Km), Aparekka-Beliatta (15Km), Beliatta-Kasagala (10Km), Kasagala-Angunukolapelessa (11Km), Angunukolapelessa-Barawakumbuka (8Km).

The Southern Expressway from Barawakumbuka to Mattala and Hambantota (E-06) was opened on November 7 last year.

Mr. Kahatapitiya said they were getting ready to manage the expressway traffic aiming at the Sri Lanka vs West Indies one day cricket match which is to be held on next Wednesday at the Mahinda Rajapaksa International Cricket Stadium aka Sooriyawewa International Cricket Stadium.