---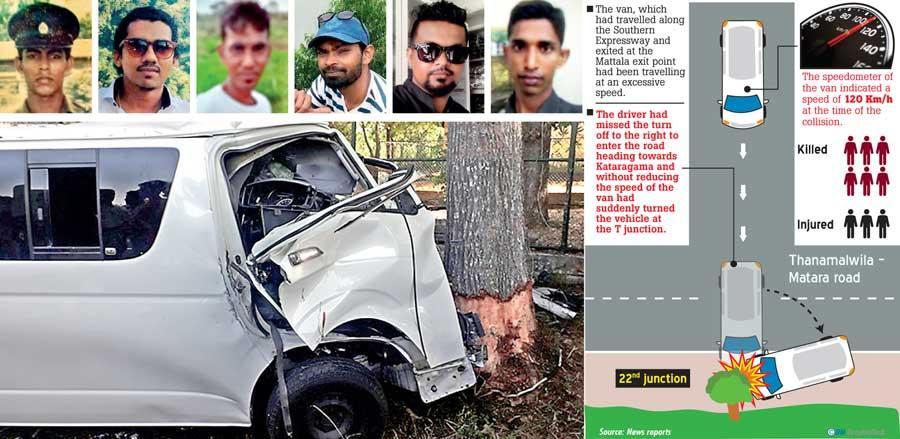 Two injured are presently being treated at the ICU of H'tota General Hospital
Speedometer of the van indicated a speed of 120kmph at the time of the collision
By Dilip Jayasekera and Chandrasena Gamage
Six persons were killed and three others sustained severe injuries when the luxury van they travelled in veered off the road and crashed into a Palu tree at the 22nd junction on the Thanamalwila–Matara road yesterday.
Lunugamvehera Police said six persons died on the spot while the others including the driver were admitted to the Lunugamvehera Hospital and later transferred to the Hambantota General Hospital. They had been travelling from Galle to Kataragama.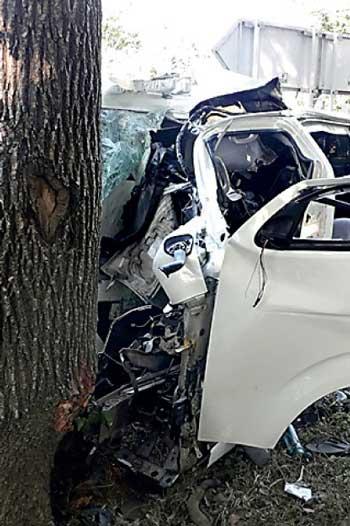 The deceased had been identified as Vithana Liyanage Thamindu Waruna (26) of Weliwatte, Anthony Weralage Sameera Prasad (23) of Pathampitiya, Kayingala Waduge Ranjan Dhanushka (30) of Heenatigala, Hirimburage Pushpa Kumara (51) of Uluwitike, Gamage Chameera Apsara (28) of Bataduwa and Isuru Nuwan Sampath of Unawatuna.
The injured are 24-year-old Yatalamatta Gamage Yasiru Dilshan (driver) of Magalla, Madiduwa Liyanage Ranjith of Kanampitiya and Ahangama Kudagamage Janith Chinthaka (23) of Karapitiya. Except the driver, the other two are presently been treated at the ICU of Hambantota General Hospital.
Sources said the van which had travelled along the Southern Expressway and exited from Mattala had travelled at an excessive speed. It had missed the turn off on the right to enter the road leading to Kataragama as the driver had negotiated the turn without reducing the speed. With the driver losing control of the vehicle, the van had crashed into a large Palu tree.
Police sources revealed that the speedometer of the van indicated a speed of 120kmph at the time of the collision.
The bodies of the deceased had been sent to the Debarawewa Hospital for postmortem. Investigations are ongoing under the direction of the Lunugamvehera Police OIC.