---
First tourist group to visit SL without contact with locals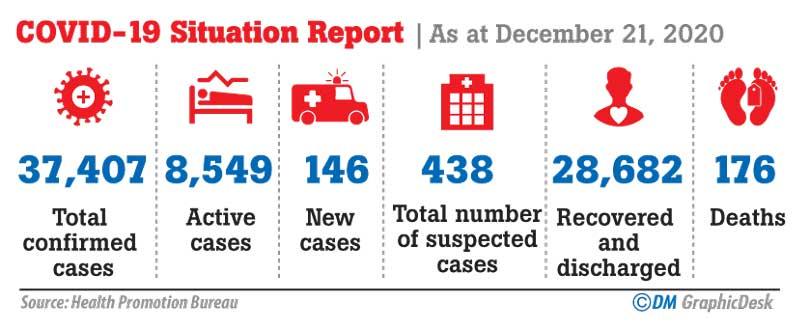 37,260 persons have been confirmed COVID-19 positive from all over the country

6,659 persons in 72 tri service-managed quarantine centres are still in quarantine
By Darshana Sanjeewa Balasuriya
COVID-19 cases in the Western Province from the second wave continue to grow and more than 27,000 patients had been detected yesterday since October 4, according to the National Operations Centre for Prevention of COVID-19 Outbreak (NOCPCO).
Among them, majority of cases, 16,109 patients were reported in the Colombo District, 8,306 cases from Gampaha and 2,617 cases in the Kalutara District.
For the 24 hours ending on Monday morning (21), 594 persons were confirmed positive to COVID-19 on Sunday. Of them, two are Sri Lankan expatriates and the rest 592 are locally-identified ones, including the majority 253 from Colombo, 124 from Gampaha District, 62 from Kalutara District and other 153 are from different districts.
Meanwhile, the total number of COVID-19 positive cases reported from the second wave of Covid-19 stands at 33,586.
Up to Sunday (20), a total of 37,260 persons have been confirmed COVID-19 positive from all over the country, including the deceased. 28,266 fully-recovered COVID-19 patients have been so far discharged from hospitals and the rest 8,818 are still under treatment in hospitals and care centres.

The NOCPCO said that 6,659 persons in 72 tri service-managed quarantine centres are still in quarantine.
Meanwhile, Army Commander Lt. Gen. Shavendra Silva said that the first group of tourists arriving in the country after the reopening of the airport on the December 26 will be able to visit Sri Lanka without any contact with Sri Lankans.

He said that the first group of 200 Russian tourists would be stationed at several hotels in the Southern Province during the first week.

The Commander said that this programme will be implemented for a month as a pilot project.
Total number of COVID-19 positive cases reported from the second wave of Covid-19 stands at 33,586
16,109 patients were reported in the Colombo District, 8,306 cases from Gampaha and 2,617 cases in the Kalutara District