---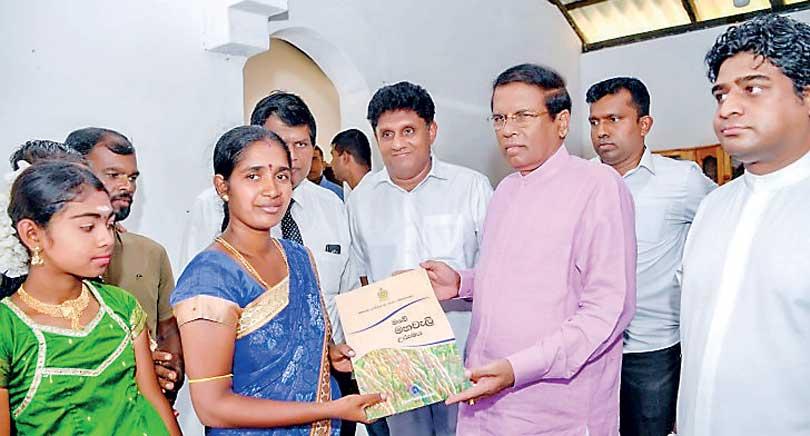 Says he is someone who could feel the pulse of the common man
By Sandun A. Jayasekera
Addressing a ceremony held last Sunday in Polonnaruwa, President Maithripala Sirisena said Housing and Construction Minister Sajith Premadasa was the only minister he met in the last 25-30 years in Sri Lanka's politics who had not stolen public funds, killed anyone or engaged in corruption.
"He is one of the most energetic, efficient and hardworking ministers in the government. He is not a thief, criminal or murderer. I can give you that assurance because I have been in politics for several decades and in various governments in the capacity of MP, Deputy Minister, Cabinet Minister and President. Therefore, I can recognise the ones who are honest and those who are not. Minister Premadasa is a clean, honest and trustworthy politician. He is someone who could feel the pulse of the common man because he stands firmly on the ground with the man on the street and the downtrodden," he said.

Addressing a ceremony held recently to mark the opening of Jeewahattagama, Disalagama and Kotaragala model villages by the National Housing Development Authority (NHDA), the President said his tenure was the only period when civilians were not targeted by government forces.

"More than six million citizens cast their votes on January 8, 2015 to regain this right which was lost. Candidates contesting the forthcoming presidential election should vow to eradicate the drug menace. The need of the hour is to eradicate drug trafficking. Capital punishment should be enacted on drug kingpins. No government should entertain drug dealers. Despite allegations levelled by certain factions, freedom and democracy have been reaffirmed in this country during the past five years. A strict mechanism was implemented to prevent fraud and corruption," he said.

Three new villages constructed in Kotaragala, Disalagala and Dalukana under the 'Samata Sevana' programme were vested with the public by President Sirisena.

Under the instruction of President Sirisena to commemorate the International Day of Indigenous People, the Soriwila Kotaralagama model village with 16 housing units was constructed to meet the housing needs of the descendants of indigenous people. While Dalukana Jeewahaththagama model village consists of 27 housing units, Disalagama consists of 23.
President Sirisena laid the foundation stone for the construction of Rathmalkandiya Sri Isipathanaramaya in Siripura. This temple will be constructed under the 'Sasunata Aruna' initiative at a cost of Rs.2.5 million.

Deputy Chief Sanga Nayaka of Mahaweli C-Zone of the Malwatta Chapter of Siyam Nikaya Most Ven. Mampita Chandawimala Thera, Chief Incumbent of Rathmalkandiya Sri Isipathanaramaya Ven. Kirimonagala Ariyawansa Thera and the Maha Sangha, Minister Sajith Premadasa, State Minister Wasantha Senanayake, MP Nalaka Kolonne, representatives of the area and the public were present.