---
Action filed for committing offences which comes under the Prevention of Money Laundering Act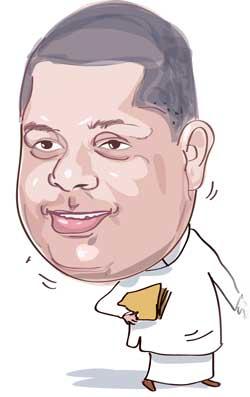 By Yoshitha Perera
The Colombo High Court yesterday ordered to remand former MP Sajin de Vaas Gunawardena till March 12 for allegedly intimidating a witness in a court case.
Ordered to be remanded till March 12 for intimidating a witness
When a money laundering case filed against the ex-Parliamentarian was taken up before Colombo High Court Judge Gihan Kulatunga, Senior State Counsel (SSC) Udara Karunathilake informed Court that Gunawardena had intimidated a witness of the particular case.

The Attorney General filed the case against Gunawardena for committing offences which comes under the Prevention of Money Laundering Act by amassing Rs. 362 million in wealth during his five years as a Parliamentarian.

At an earlier hearing, indictment was handed over to the accused Gunawardena and he was released on a cash bail of Rs. 500,000 and two sureties of Rs. 5 million.
The investigations which was conducted by the Criminal Investigation Department (CID) had revealed that Ex-Parliamentarian owned several companies under name 'COSMOS' which had 21 companies at the time he handed over nominations to contest in 2010 general election.
Ordered to be remanded till March 12 for intimidating a witness in the case
Gunawardena had intimidated a witness of the particular case
Senior State Counsel (SSC) Udara Karunathilake informed Court that Gunawardena had intimidated a witness