---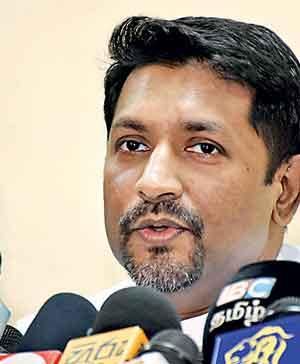 By Ajith Siriwardana
Non-Cabinet Minister of Mass Media Ruwan Wijewardene said yesterday he was totally against the President's move to take over Sri Lanka Rupavahini Corporation (SLRC) under the Defence Ministry and that it was a threat to media freedom and democracy of the country.
He told a news conference that it was a serious matter to acquire SLRC at a time when an election was within sight.

"The President might be striving to gain political mileage at the forthcoming election. This is an alarming situation. I hope this will be rectified after the President realises the gravity of the issue. The police, tri-forces and Telecommunications Regulatory Commission (TRC) come under the President, and now its Rupavahini and the Sri Lanka Rupavahini Corporation Act (No. 6 of 1982) which issues licenses to media institutions," he said.

"The acquisition of SLRC surfaces the doubt whether the President was plotting another constitutional coup similar to that which was witnessed on October 26 last year. I attempted changing the SLRC management on four occasions after being appointed Media Minister, but the President kept rejecting my proposals. My proposal was prompted by corruption and mismanagement. As the President, he has political clout to acquire any institution, but on principle I am against this move," he said.

The minister said he was yet to receive a response from the President to the letter forwarded on the matter. "If given the opportunity, I will discuss the issue with the President. This is not a political concern but an issue of policies," he said.