---
The SLFP would not ally with the SLPP unless the SLPP changes the pohottuwa symbol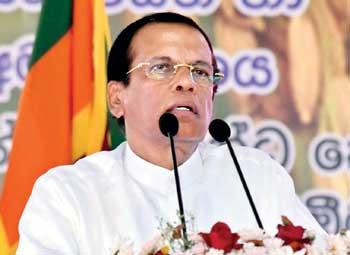 By Sandun A. Jayasekera
The SLFP District and Electoral organisers will be called to Colombo once again today to obtain their views on whether the SLFP must support the SLPP or contest the Presidential poll separately because the party's Central Committee that met on Saturday (5) night failed to take a decision on the issue, General Secretary of the SLFP, Dayasiri Jayasekara said yesterday.
Mr Jayasekara added that the party entrusted the SLFP leader, President Maithripala Sirisena to take the final decision on whether the party to support the SLPP or not at the November 16 presidential election.

He said if and when a firm decision was arrived at on the party's position, it would be announced to the media immediately and a news briefing chaired by President Sirisena scheduled at the party office last morning had to be postponed for today as the party failed to make a decision.

The Central Committee of the SLFP met at the Official Residence of President Sirisena at around 7.30 p.m. on Saturday and a majority of District and Electoral organizers opposed the party joining the SLPP in alliance in support of Gotabaya Rajapaksa if the SLPP does not agree to change the pohottuwa symbol for a different symbol acceptable to both parties, SLFP spokesman, Weerakumara Dissanayaka said.

Mr Dissanayaka told the Daily Mirror that the SLFP would not ally with the SLPP unless the SLPP changes the pohottuwa symbol for a common symbol as the SLFP was ready to abandon hand symbol.

"We can't ask SLFP voters to cast their votes for the pohottuwa symbol if we ditch the hand symbol. That is why we request the SLPP hierarchy to change the pohottuwa symbol. We must protect the dignity of the party and self-respect of our voters and organisers," Mr Dissanayaka stressed.

He expressed hopes that President Sirisena would announce the final decision of the SLFP today.
We can't ask SLFP voters to cast their votes for the pohottuwa symbol if we ditch the hand symbol. That is why we request the SLPP hierarchy to change the pohottuwa symbol. We must protect the dignity of the party and self-respect of our voters and organizers