---
Replacing Rock Phosphate will save Rs. 4 bn a year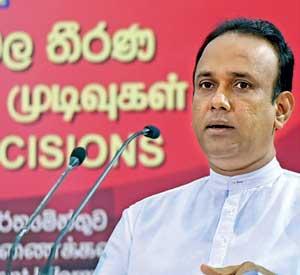 By Sandun A Jayasekera
Sri Lanka will start producing Single Super Phosphate (SSP) instead of Rock Phosphate using the phosphate deposits at Eppawala and save Rs. 4 billion annually. Cabinet spokesman and Minister Ramesh Pathirana said yesterday.
Addressing the weekly Cabinet briefing yesterday, Minister Pathirana said the government-owned Commercial Company and Lak Pohora Company had imported ample stocks of fertilizer for paddy and other crops and they would be distributed island wide in the next few days.

"I admit that there is a shortage of fertilizer because with the new enthusiasm made in the aftermath of the Covid-19 in the agricultural sector, the demand for fertilizer has increased threefold. There was also a delay in importing fertilizer as the last government had failed to pay the bills of two companies. As a result they did not import fertilizer for about four months. Now that the government paid Rs. 10 billion to the two companies, fertilizer has arrived," he stressed.

Minister Pathirana added that the Single Super Phosphate was more suitable and productive for Sri Lanka's soil and therefore farmers would benefit from SSP produced in Sri Lanka. Pic by Nisal Baduge.