---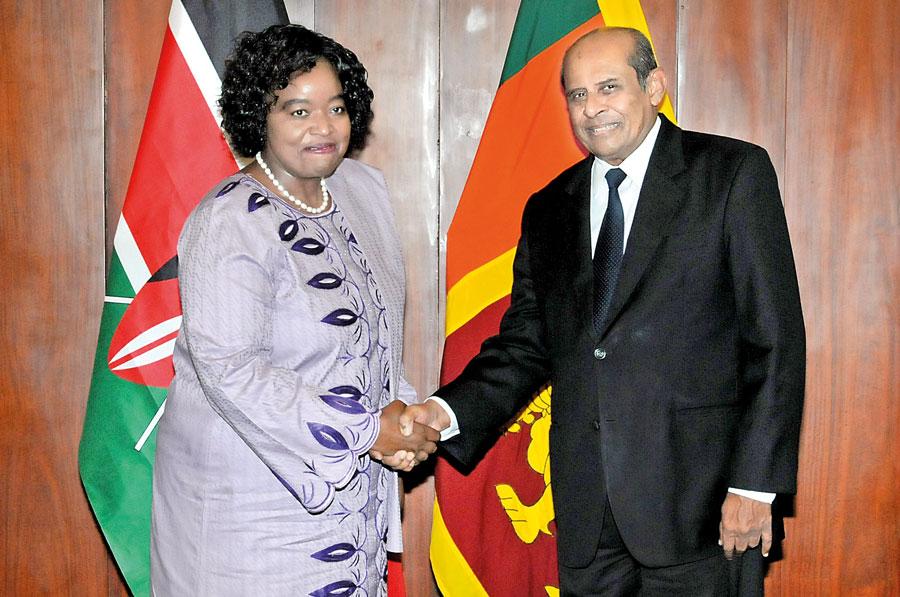 Kenya said it was looking forward to the visit of President Maithripala Sirisena to that country this week.

The Governments of Sri Lanka and Kenya have agreed to collaborate in combating terrorism, address the challenges of transnational crime and the importance of littoral countries addressing the issues concerning the Indian Ocean, the Foreign Affairs Ministry said yesterday.

The delegates of the two governments had discussed this during a meeting held between Foreign Minister Tilak Marapana and Cabinet Secretary for Foreign Affairs of Kenya Monica Juma at the Foreign Ministry in Colombo on Friday (8).

Foreign Minister Marapana noted the importance of re-activating the Joint Trade Committee between Sri Lanka and Kenya which could pave the way for greater economic and trade relations.

Sri Lanka emphasized its increased focus on Africa and the continent's untapped potential. Noting that Kenya could provide a gateway for Sri Lanka to access the larger African market, the Kenyan minister invited Sri Lanka to invest in Kenya.

Minister Juma added that her country looked forward to welcoming President Maithripala Sirisena in Nairobi this week, when he arrives to participate in the 4th UN Environmental Assembly.

The two ministers had discussed specific areas that could contribute towards optimizing bilateral relations for the mutual benefit of their respective countries. Recalling their meeting in Nairobi in June 2018 when Foreign Minister Marapana visited Kenya, the two ministers reiterated that agriculture, sports, agroforestry, textiles and manufacturing were some of the key areas where bilateral cooperation was possible.

The Kenyan side expressed interest in possible research collaboration on rice and exchange of experience and technical expertise in value addition on tea and coconut cultivation. Kenya was further interested to learn from the Sri Lankan experience in textile manufacturing. In turn Sri Lanka conveyed its interest to learn from Kenya's best practices in agroforestry and possible research collaboration, particularly through the World Agroforestry Centre (ICRAF) which has its headquarters in Nairobi.

It was further underlined that air connectivity was an important factor in promoting more people-to-people links and promoting tourism. Both sides agreed that the Indian Ocean is a connector and a common heritage and it was up to the littoral countries to negotiate collectively on preserving its independence and the sustainable use of its rich marine resources.