---
We don't want an election that spells death"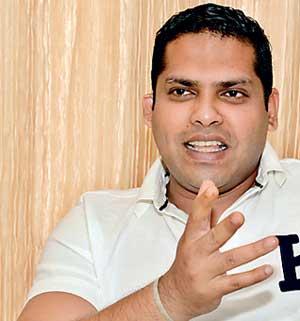 By Yohan Perera
Political parties allied to the Samagi Jana Balawegaya (SJB) are preparing to seek the help of Court to find redress to the current constitutional crisis, it's campaign head, former Minister Harin Fernando said yesterday.
The former Minister told a press conference that parties allied to the SJB could go to Court -as an alliance.
He said they would also support civil society movements in such endeavours.
"We have held discussions with SJB leader Sajith Premadasa and will probably go to Court as a party.
"We feel parliament should be reconvened so that matters could be resolved. It would be even possible to bring in a resolution for providing the Rs.5,000/- grant to the under privileged and take decisions for the utilisation of foreign aid that has been received.
"We have already informed the government that we would support any genuine effort to combat Covid-19 and assist people. We are even ready to give the government a written pledge on this " he added.
He said holding elections at this point of time would be deadly. "We don't want an election that spells death" he said.
Denouncing the claim made by some that South Korea conducted an election successfully, he said 11 million voters in that country has used postal and digital voting. "Votes will be robbed if people in Sri Lanka are made to vote at home using digital technology," he said.
Former MP Ajith Mannapperuma who participated at the press conference, said Pavithra Wanniarachchi, Minster of Health should resign from her post for giving a false assurances that Covid-19 would be wiped out by April 19, 2020.
"Either the Minister of Health should resign from her post for giving false assurances, or those who fed her false information should be penalised," the former MP said.
Votes will be robbed if people in Sri Lanka are made to vote at home using digital technology