---
Samagi Sevaka Sangamaya will be the main trade union designed to compete with JSS of the UNP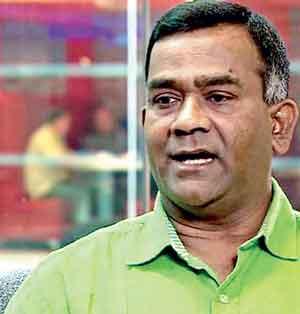 By Yohan Perera
Samagi Jana Balawegaya (SJB) is to form its own trade union wing instead of trying to gain control of the UNP trade union wing Jathika Sewaka Sangamaya (JSS), its National Organiser Tissa Attanayake said yesterday.
Mr. Attanayake said that Samagi Sevaka Sangamaya will be the main trade union which will be designed to compete with Jathika Sevaka Sangamaya of the UNP." We will also have another union of government servants similar to Rajya Seva Vurthiya Samithi Sammelanaya and also our own estate workers union. MP Harin Fernando will be in charge of the SJB estate workers' union," Mr. Attanayake said.

"We will establish 12,000 Bala Mandalas at the polling stations level as well," he added.

Referring to a statement that had been made by State Minister Ajith Niward Cabral that all state institutions should be prepared to make sacrifices to resolve the country's debt issue, the SJB MP said it is a dangerous statement. "The economic crisis is caused by the present government's decision to reduce the VAT to 7 percent. This decision had failed to bring the desired results as it helped only the large scale businessmen. Government has lost Rs. 700 billion as state revenue as a result of this decision to reduce VAT," he said

He alleged that there would be a shortage of essential goods by the turn of the year as a result of the curtailing of importation.
There would be a shortage of essential goods by the turn of the year as a result of the curtailing of importation