---
He and MSD team were withdrawn in Oct. 2018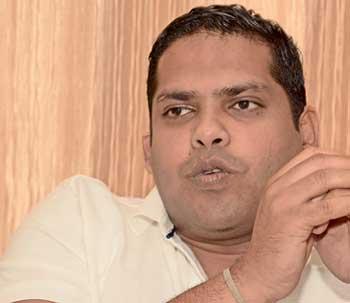 By Yohan Perera
SJB MP Harin Fernando yesterday said the Sub Inspector (SI) who committed suicide after killing a woman in Kuruvita was a member of the MSD team given to him during his tenure as a cabinet Minister but he had not associated with him closely.
Mr. Fernando made these remarks after photos showing the police officer standing with him going viral.
Mr. Fernando told a media conference that this SI and the MSD team were withdrawn after October 2018 after the 52 day government was formed. "He was later transferred and was attached to the police station. There were no allegations against him during that time. Actually he was living with his family happily during that time. Therefore I cannot see why my name is dragged to the incident saying he was an officer who was in charge of my security," the MP said.

"I would like to tell everyone not to share information about the incident on social media as one has to look at the well-being of the two families of this SI and the 30 year old woman. One cannot understand as to why the media is keen on giving publicity to this incident," he added.

On a different note Mr. Fernando said he will reveal as to who had the contract with Zahran to carry out Easter Sunday attacks in Parliament. "I don't want to reveal this information now as efforts are being made to send me to jail even for a traffic offence," he said.
I would like to tell everyone not to share information about the incident on social media