---
The second instalment of Rs.5,000 in the Rs.10,000 loan will be paid to 200,000 community-based society (CBS) members through CBS banks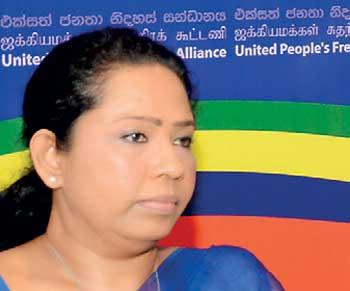 By Sandun A. Jayasekera
Health Minister Pavithradevi Wanniarachchi said yesterday Rs.5,000 each would be granted to senior citizens, the differently-abled and those afflicted with Chronic Kidney Diseases (CKDs) through respective Grama Niladharis.
"Those in the waiting lists of aforementioned categories will also be entitled to the grant as the government considers them extremely-vulnerable and helpless. The government does not expect a single family to starve during these difficult times," she said, adding that apart from their monthly payment of Rs.2,000, the government yesterday paid Rs.3,000 each to all senior citizens who were above the age of 70. She said arrangements were made for Grama Niladharis to visit the residences of kidney patients, senior citizens and the handicapped to pay their dues.
Government has a special relief package for fishermen and farmers through their respective insurance schemes

On a different note, she said Samurdi families received their first instalment of Rs.5,000 whether they had savings or not in their Samurdi accounts.

"The second instalment of Rs.5,000 in the Rs.10,000 loan will be paid to 200,000 community-based society (CBS) members through CBS banks. Those who have defaulted repayments are also given the opportunity to make an appeal for the loan. Another 6,330,000 families in the Samurdi waiting list will also be considered for the facility in the next few days. Out of 3.2 million senior citizens, 600,000 are over 70 years of age and have no pension or any other income, which was why the government paid them Rs.5,000 each. There are some 150,000 differently-abled persons and those suffering from acute kidney failures in the country. Rs.490 million has been allocated to provide them financial support, food and medicine. The government has a special relief package for fishermen and farmers through their respective insurance schemes. Although family health clinics have been closed under prevailing circumstances, family health nurses will visit the homes of expectant mothers and newborns. The distribution of 'Thriposha' will continue uninterrupted," she said.
There are some 150,000 differently-abled persons and those suffering from acute kidney failures. Rs.490 million has been allocated to provide them financial support, food and medicine