---
"It is also very essential to take steps to avoid further spread of COVID -19 as a second wave will definitely kill the economy"
I myself and the WHO warned of a second wave of COVID-19 and so did the GMOA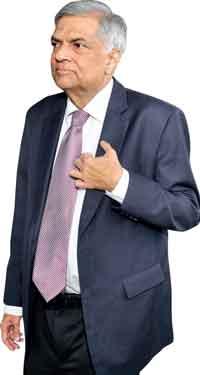 By Yohan Perera, Shane Seneviratne and J. A. L. Jayasinghe
Former Prime Minister Ranil Wickremesinghe yesterday called for the postponement of the general election stating that the country is facing a dangerous situation in the wake of COVID-19 raising its head once again.
Speaking at an election rally, Mr. Wickremesinghe said the elections commission should not wait until the last moment to postpone the poll.
"Postpone the elections now without waiting till the last moment. Candidates of all political parties have already spent their money on the campaign. It will be unfair if the election is postponed at the last moment as the candidates will be spending their funds for the campaign in vain," Mr. Wickremesinghe said.
"It is also very essential to take steps to avoid further spread of COVID -19 as a second wave will definitely kill the economy. A man who had fallen from a deadly blow will surely die if he is given another deadly one," he added.
The former Prime Minister said the Elections Commission should immediately meet the health officials and decide on a postponement.

Mr. Wickremesinghe said the government should explain to the people the real situation. "I myself and the WHO warned of a second wave of COVID-19 and so did the GMOA. However, these warnings were ignored," he also said.

"Election Commission should not talk only to the Director General of Health but should talk to unions of medical officers and other health officers immediately," he said.