---
When the UPFA proposed to appoint Lakshman Kadirgamar as PM we including Maha Sangha proposed to the then President Chandrika Kumaratunga to appoint Mahinda Rajapaksa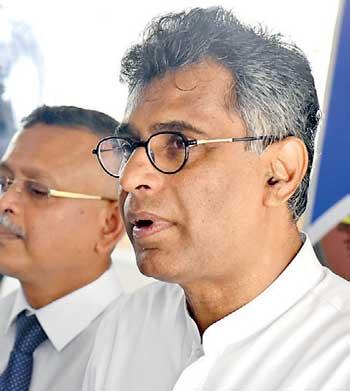 By Nadeeka Daya Bandara
Former Minister Patali Champika Ranawaka said yesterday that former Minister Rajitha Senaratne was not absconding but he would appear in court at the right time.
He said this after visiting the Sri Dalada Maligawa yesterday morning after being released on bail.

MP Ranawaka said the decisions given by the court when there was an independent judiciary was extremely correct.

"We committed a blunder last time. We regret about it. When the UPFA proposed to appoint Lakshman Kadirgamar as the Prime Minister, we including Maha Sangha proposed to the then President Chandrika Kumaratunga to appoint Mahinda Rajapaksa as Kadirgamar was not a Buddhist,' he said and added that when Mahinda Rajapaksa was elected President in 2005, none of those with him now were there in the picture then.

He said there was a time when the LTTE was funded through another organisation while peace talks were ongoing in Geneva.

"We as the Jathika Hela Urumaya (JHU) came forward for the sake of the country in such situations. But those who were not to be seen at that time have become heroes today," he said.