---
Wilpattu National Park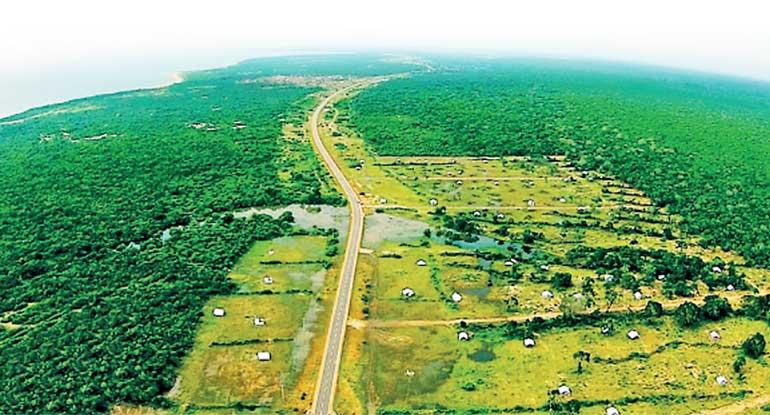 Rumours are being spread on television and social media saying the Wilpattu National Park is denuded
By Ajith Siriwardana and Yohan Perera
Parliament was in a furor yesterday over the deforestation of land abutting the Wilpattu National Park for the settlement of people.
Arguments broke out in the House when JVP Leader Anura Kumara Dissanayake pointed out that lands on the buffer zone of the Wilpattu National Park had been cleared for resettlement of Muslims displaced by the war and asked Minister Rishard Bathiudeen whether more lands were being cleared for this purpose.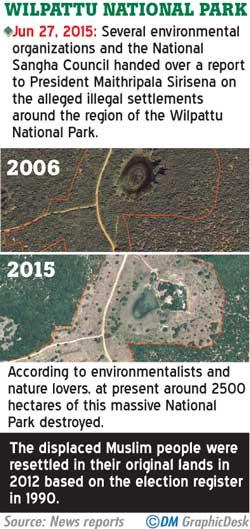 The minister said not a single inch of land had been given to the Muslims after 2012 and asked the Speaker to conduct an investigation and punish those responsible for any irregularity.
"Appoint a parliamentary select committee and probe this matter. Rumours are being spread on television and social media saying the Wilpattu National Park is denuded. I confirm that not even a single inch had been given to Muslim people after 2012. Punish me if I have done anything wrong," he said.

The minister said about 300,000 Muslim people were chased away during the war in 1990 and they were resettled in their original lands in 2012 following a recommendation of the Presidential Task Force.

He said lands in the Wilpattu forest reserve had not been cleared for resettlement and that while the Wilpattu forest stretched into the Puttalam and Anuradhapura districts these people were resettled in the Mannar district.
"The displaced Muslim people were resettled in their original lands in 2012 based on the election register in 1990. These lands did not belong to the forest department. They were under the divisional secretariat. The lands were not cleared by the people but by the divisional secretariat before they were resettled," the minister said.

He said the then Wildlife Minister Anura Priyadarshana Yapa had gazetted lands which the people had occupied before being evicted by the LTTE under the forest department based on Google maps.

Mr. Yapa, who joined the cross talk, said gazetting of the lands were correct and added that some amount of forest lands had been used for expansion of the resettlement villages.
"The minister requested me to release forest department lands to expand villages for resettled people but I rejected the request," he said.
The displaced Muslim people were resettled in their original lands in 2012 based on the election register in 1990. These lands did not belong to the forest department