---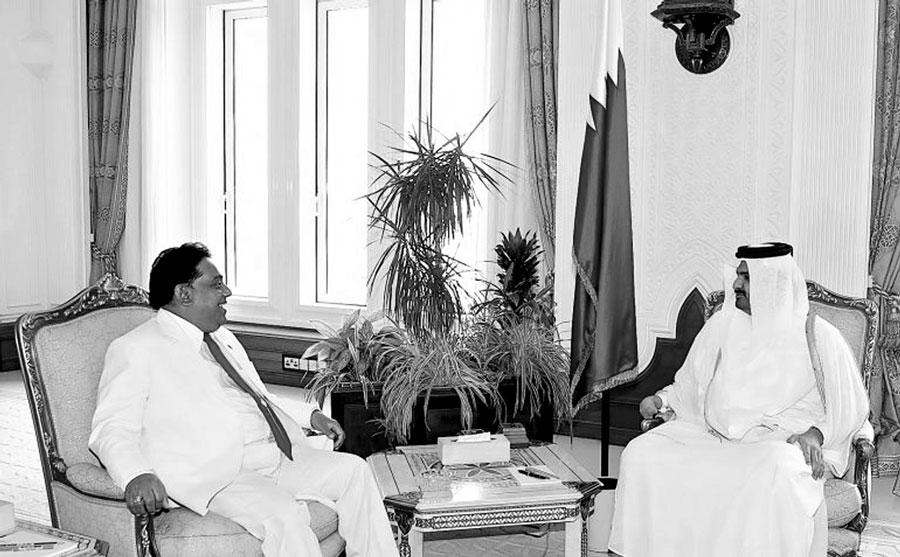 By Darshana Sanjeewa
Deputy Emir of Qatar Sheikh Abdullah bin Hamad Al Thani met with the Ambassador of Sri Lanka to Qatar, A. S. P. Liyanage, on the occasion of the end of his tenure and discussed further prosperity in bilateral relations.

Deputy Emir granted the outgoing Ambassador the Decoration of Al Wajbah in recognition of his role in enhancing bilateral relations, wishing him success in his future assignments and further progress and prosperity in bilateral relations, The Peninsula reported.

Al Wajbah Decoration is bestowed on foreign ambassadors in recognition of their valuable services to the State or to humanity. It is made of 18ct yellow and white gold and studded with 184 stones of diamonds and sapphires representing the colours of the Flag of Qatar.

The Sri Lankan envoy expressed thanks and appreciation to Deputy Emir and to the State's officials for the cooperation he received during his term in office.
The Prime Minister and Interior Minister of Qatar, Sheikh Abdullah bin Nasser bin Khalifa Al Thani also met the Sri Lankan Ambassador.

President Maithripala Sirisena had appointed Liyanage as the Sri Lankan Ambassador to Qatar on March 10, 2017.

During his tenure, Stafford Sri Lankan School Doha was affiliated with the Embassy by Liyanage. The ambassador had taken steps to construct a new building for the Sri Lankan school in Doha on a land allocated by the State of Qatar.

ASP Liyanage said that Sri Lanka has been maintaining a very cordial relations with Qatar for many ways.