---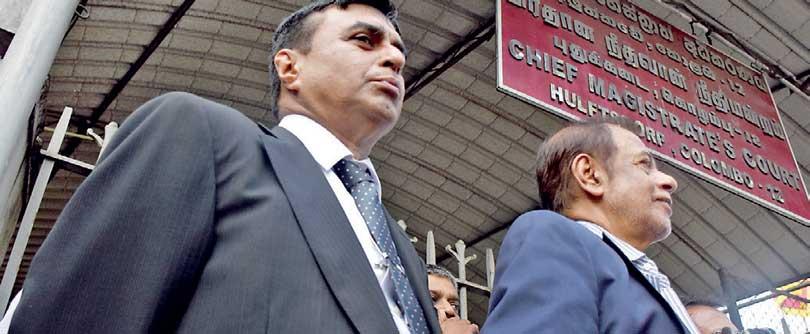 Pic by Kushan Pathiraja
Ordered suspects to report to CID last Sunday of each month
By Yoshitha Perera
Suspended IGP Pujith Jayasundara and former Defence Secretary Hemasiri Fernando were yesterday released on bail by Colombo Chief Magistrate, after granting them bail by Colombo High Court.
Both suspects were arrested by the CID, last September on charges of committing a criminal offence by failing to prevent the coordinated terror bombings on Easter Sunday last year, even after receiving pre-warning on the attacks.

When the cases were taken up in Colombo High Court yesterday morning, both the suspects were granted bail on serious bail conditions.

Considering the revision bail application filed by former Defence Secretary Hemasiri Fernando before Colombo High Court Judge Manjula Thilakaratne, the Judge ordered to release Fernando on cash bail of Rs. 250,000 and two personal sureties of Rs. 2.5 million each. The Judge ordered the sureties be residents of the Colombo district.

The Judge also imposed a travel ban on the suspect and ordered him to surrender his passport to the Court. The Judge also instructed to inform the Immigration and Emigration Controller of this directive. The Judge also ordered the suspect not to interfere with witnesses and to report to the Director of the CID on the last Sunday of each month.

In a separate hearing at the Colombo High Court yesterday, Colombo High Court Judge Aditya Patabendige granted bail to suspended IGP Pujith Jayasundara on similar bail conditions.
When the revision bail application filed by Jayasundara was taken up in Courts, Deputy Solicitor General (DSG) Dileepa Peiris appearing on behalf of the AG informed Court that there was no objection to the suspect being granted bail.

Earlier, the Colombo High Court had dismissed the bail granted by the Colombo Chief Magistrate's Court to both suspects mentioning that Magistrate's bail order contains serious legal errors and it was violating the law.
Earlier, Colombo HC dismissed the bail granted by Colombo Chief Magistrate's Court to both suspects mentioning that Magistrate's bail order contains serious legal errors and it was violating the law
The Judge ordered to release Fernando on cash bail of Rs. 250,000 and two personal sureties of Rs. 2.5 million each