---
Mr. Jayasekera gained the second highest number of preferential votes for the Ratnapura District in the last General Election
two Appeal Court Judges made this order to the Prison Authorities on considering a writ application filed by Mr. Jayasekera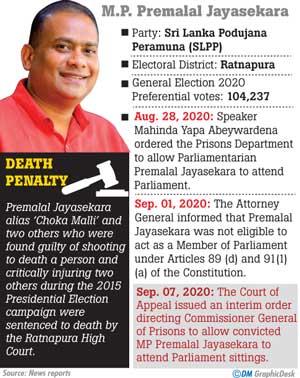 By T. Farook Thajudeen
The Court of Appeal yesterday issued an interim order on the Prison Commissioner and on the Superintendant of Welikada Prison to produce former Power and Energy Deputy Minister and Sri Lanka Podujana Peramuna (SLPP) candidate for Ratnapura District Premalal Jayasekera alias "Chokka Malli" for Parliamentary sessions during its sittings..
Mr. Jayasekera gained the second highest number of preferential votes for the Ratnapura District in the last General Election.
The two Appeal Court Judges A.H.M. Nawas and S. Rajakaruna made this order to the Prison Authorities on considering a writ application filed by Mr. Jayasekera in the Court of Appeal seeking an order for him to appear for the Parliamentary sessions during its sittings. The Court also issued notice on the Attorney General and to the Parliamentary Secretary to appear before court on September 29 to hear the writ petition.

President Counsel Romesh Silva instructed by Buddhika Chandrasekera appeared for the petitioner .
Mr. Jayasekera and two others were convicted by the Ratnapura High Court for shooting to death a person while injuring two others during the 2015 Presidential Election campaign killing one person and wounding two others by gunshots, as the victims were decorating an election stage of then Common Candidate Maithripala Sirisena in Kahawatta, Ratnapura.