---
The wholesale prices of 1kg of carrots, beans, and brinjal range between Rs.250 and Rs.360 whereas in other seasons the wholesale prices of these vegetables range between Rs.100 and Rs.160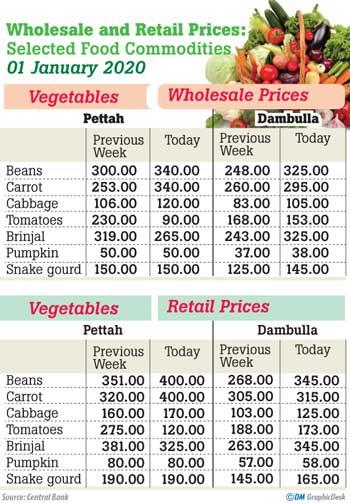 By Sheain Fernandopulle
The supply disruptions caused by adverse weather conditions have resulted in the wholesale and retail prices of several varieties of commonly used vegetables increasing, economic centres said.
It was also reported prices of most fish varieties increased in Negombo market due to high demand in line with New Year festival.
Fish like Kelawalla and Hurulla are on the rise and the prices are recorded as Rs.550 and Rs. 450 respectively.

Due to the festive season, most of the vendors are not engaged in selling vegetables. There are only a few vendors, who are engaged in selling. Hence, the limited supply has resulted in higher prices in vegetables at the Meegoda Economic Centre, its Manager Prashan Rajapaksa told Daily Mirror.

"In situations of this nature where vegetable prices are increasing, people can go for alternatives like cucumber, pumpkin and melon which are considerably cheaper," Mr. Rajapaksa said.
According to vendors at Dambulla, Nuwara Eliya, Pettah and Narahenpita Economic Centres, the substantial decrease in the supply of vegetables had compelled them to increase prices.
It is reported that the number of vehicles carrying vegetables arriving at the Dambulla Economic Centre had declined by 70% resulting in low supply and higher demand and thus the increase in prices. The wholesale prices of 1kg of carrots, beans, and brinjal range between Rs.250 and Rs.360 whereas in other seasons the wholesale prices of these vegetables range between Rs.100 and Rs.160.

According to the Central Bank, prices of most varieties of vegetables remained at higher levels in both Pettah and Dambulla markets because of a drop in the supply of vegetables caused by adverse weather conditions.