---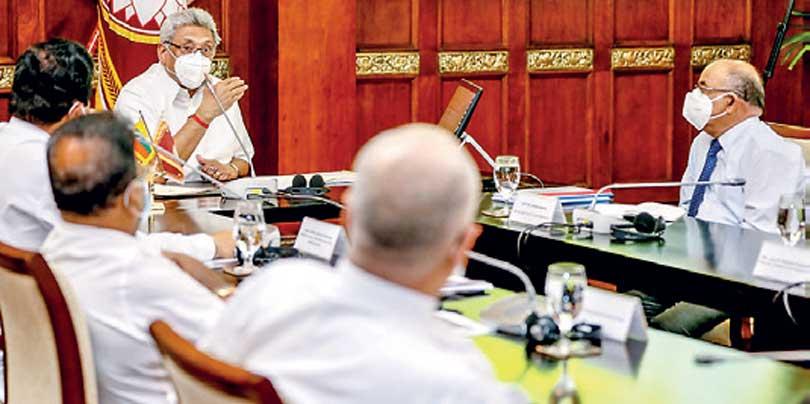 President stressed the need of promoting online education for higher education
President Gotabaya Rajapaksa has taken up for review the status of the National Education Policy currently being formulated, the Presidential Media Division said.
It said the Members of the Presidential Task Force on Sri Lankan Education updated the President on the current status of the formulation of the National Education Policy at the Presidential Secretariat on Monday.
The President stressed the significance of the new policy as it should be formulated in such a manner to be acceptable to everyone since it would affect the country and the future generations.

Recommendations have been submitted covering the nursery, primary, secondary to higher and vocational education. The President informed the officials to place the recommendations for a public debate at least two months prior to the finalisation of the report and added that recommendations should be spread among the public both via print media and electronic media to consult their opinions and include them in the final report. The Presidential Task Force said in the face of the COVID-19 pandemic, online education method has achieved much progress.
Despite numerous difficulties at the inception, online system was able to overcome technical issues and succeed. With the growing number of students from both universities and schools, the online education displays the potential for further improvement in the future. The President stressed the need of promoting online education for higher education, based on these data.
He instructed that online arrangements be made to fill the existing teacher vacancies in English, Mathematics and Science.

All the universities in the country have progressed through online activities. Prof. Sampath Amaratunga, Chairman of the University Grants Commission said Sri Lanka was ahead of India, Indonesia and Malaysia in online education.

He said the online education system has received an enthusiastic participation from the students at Faculties of Arts beyond earlier expectations. The Vice Chancellors of the Universities pointed out that this has helped achieving the President's objective of imparting knowledge in information technology to students studying in Arts stream.