---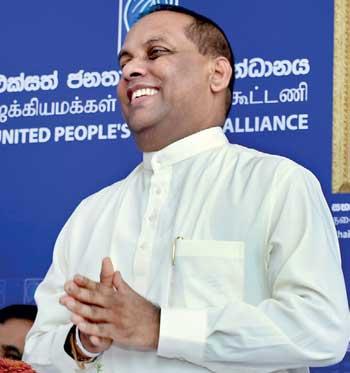 By Sheain Fernandopulle
The United People's Freedom Alliance (UPFA) will hold talks with Sri Lanka Podujana Peramuna (SLPP) presidential candidate Gotabaya Rajapaksa in connection with the upcoming presidential election, its General Secretary Mahinda Amaraweera said yesterday.
He told a news conference that since Mr.Rajapaksa had not obtained membership of any political party, it would be easy for them to talk to him directly.

"We will soon start discussion with Mr Rajapaksa as we are reaching the final rounds of talks with the SLPP. We hope that he would respond positively to the proposals containing the way forward, which are going to be presented to him," Amaraweera said

"If our party is to reach an agreement with the SLPP to form an alliance, we need to know its policies and nevertheless they should agree to our policies as well. We don't want an individual to win but to ensure that our policies are upheld," Amaraweera added.

He said limiting the cabinet to 30, forming an election system which restricts corrupt individuals to come to power, implementing a strategic plan to uplift the national economy and making the country self-sufficient, were some of the proposals.
Mr.Rajapaksa had not obtained membership of any political party