---
Gota, Sajith, Anura, 32 others in the fray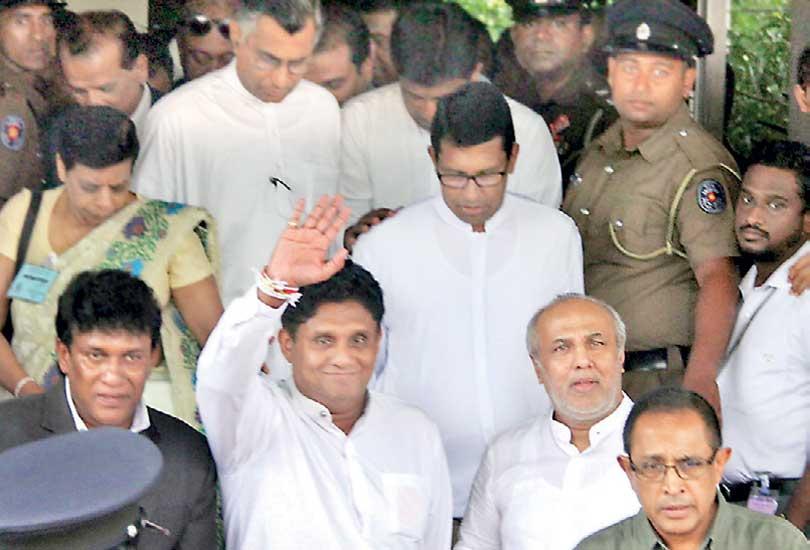 Will create a pleasant country where humanity and development thrive. Our campaign will commence on October 10 in Colombo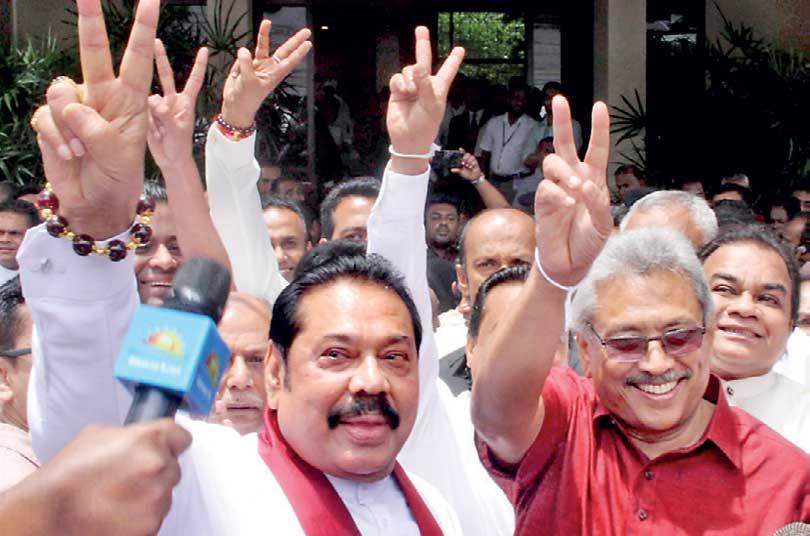 Will kick off the campaign from Anuradhapura and the manifesto will be presented to the public soon. Our journey will be a success and we will emerge victorious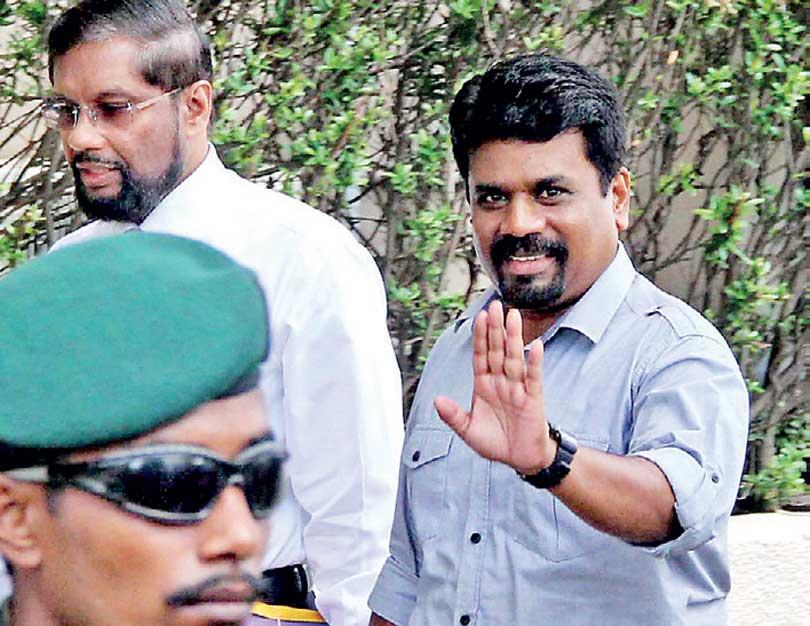 We need to depart from the disastrous political path of the last 71 years. The opportunity is now awarded to the people to decide
Chamal, Welgama, 4 others opt out
EC rules out two objections
By Sandun A. Jayasekera
Kicking off one of the most decisive political campaigns to elect the seventh executive President of Sri Lanka, the National Elections Commission (NEC) yesterday accepted 35 nominations including those submitted by UNP deputy leader Sajith Premadasa, former Defence Secretary Gotabaya Rajapaksa of the SLPP and Anura Kumara Dissanayake of the JVP.
Presidential election will be held without a sitting President, Prime Minister and opposition leader as a candidate for the first time
Parties appealed not to display propaganda material to promote any candidate other than at the ground where an election meeting is held
Six candidates who placed deposits by 12:00 noon on Sunday did not tender their nominations while there were objections against two independent candidates M.K. Sivajilingam and M.L.A.M. Hizbullah. The objections were raised by Battaramulle Seelarathana Thera of Janasetha Peramuna and Sarath Manamendra of Nava Sihala Urumaya against Hizbullah. However, they were both rejected by the NEC panel of officials led by its Chairman Mahinda Deshapriya based on provisions of the Presidential Election Act.
Former Speaker Chamal Rajapaksa, MP Kumara Welgama, Jayantha Liyanage, Aruna de Soyza, Gunapala Tissakuttiarachchi and Maheepala Herath did not tender their nominations though they placed deposits.

The candidates other than those from the three major parties in the fray are Ajantha Wijesinghe of Socialist Party of Sri Lanka, Saman Prasanna Perera of Ape Janabala Pakshaya, Ariyawansa Dissanayake of Democratic United National Front, Siritunga Jayasuriya of United Socialist Party, B.G. Nandimithra of New Samasamaja Party, Wajirapani Wijesiriwardana from Socialist Equality Party, Sarath Manamendra from Nava Sihala Urumaya, Rohan Pallewatta from National Development Front, S.P. Liyanage from Sri Lanka Labour Party, Battaramulle Seelarathana Thera of Janasetha Peramuna, Duminda Nagamuwa of Frontline Socialist Party, General Mahesh Senanayake from National People's Party, Aruna de Soyza of Democratic National Campaign, Ajantha de Soyza of Ruhunu Janatha Party, Priyantha Edirisinghe from Okkoma Wasiyo Okkoma Rajawaru organisation, Namal Rajapaksa from Jathika Samagi Peramuna and Subramaniam Gunaratne from Ape Jathika Peramuna.
Independent candidates are Jayantha Ketagoda, Siripala Amarasinghe, Aparakke Punnananda Thera, Milroy Fernando, Samansiri Herath, Vijithakumara Keerthiratne, Chaminda Anuruddha, Samaraweera Weerawanni, Ashoka Wadigamangawa, Idrus Mohamed, Piyasiri Wijenayake, Rajiva Wijesinghe, M.K. Sivajilingam, M.L.A.M. Hizbullah and Hassan Mohamed Alavi.

Presidential election will be held without a sitting President, Prime Minister and opposition leader as a candidate for the first time.
Addressing the 35 candidates after nominations were tendered by 11:00 last morning, NEC Chairman Deshapriya explained how candidates, political parties and print and electronic media should behave and how election propaganda be conducted without violating the election law and media guidelines and regulations.
In his statement, Mr. Deshapriya made a fervent appeal to all political parties to strictly adhere to the election law and not to display posters, cutouts, banners, floats or any other propaganda material to promote the candidacy of any candidate other than at the ground where an election meeting was held.
However, decorations are allowed at the ground where President addresses a propaganda rally. The processions of political parties and vehicles are not allowed other than at a ground where a legally permitted rally is being held.

Mr. Deshapriya appealed to candidates to remove all cutouts, banners, floats, stickers and posters displayed at public places countrywide immediately following the receiving of nominations. Party symbols, names of candidates, stickers, floats and posters can be displayed only at the ground where public rallies are held.
"Public servants including department heads and ministry secretaries who do not have political rights are prohibited to engage in political activities. Local government authorities must follow strict independence when applications were received to reserve grounds and public and conference halls for political rallies or discussions. Police officers, armed forces personnel and the media in particular must maintain complete independence when they perform their duties. The police must be in fully alert to prevent the violation of election law and election related violence. State-owned print and electronic media must not take sides in its overages and broadcast, telecast and print and maintain strict independence and not influence the voter to support any particular candidate. Print and electronic media in the State and private sectors must refrain from printing, broadcasting, telecasting or publishing fabrications, distortions, exaggerations or false news items, features or articles in support of any candidate and all stakeholders must extend their fullest support and cooperation to the Elections Commissioner, his officials, the police and the armed forces to conduct a free and fair election," Mr. Deshapriya said.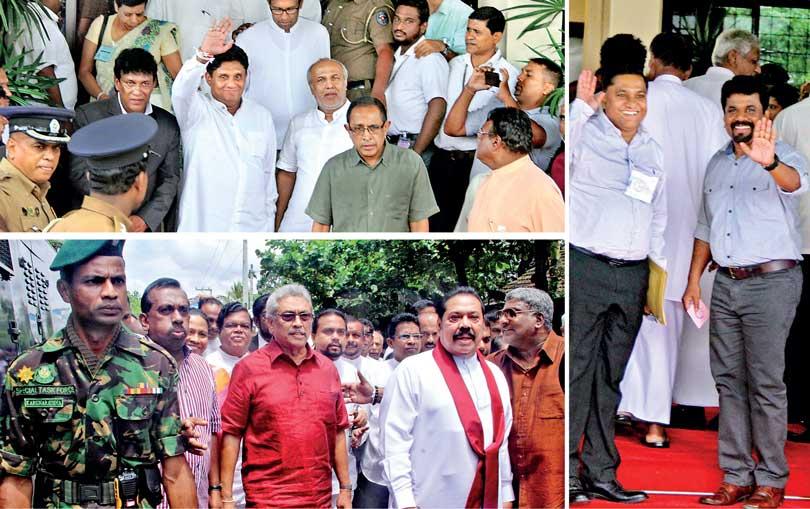 UNP deputy leader and Minister Sajith Premadasa, SLPP candidate and former Defence Secretary Gotabaya Rajapaksa and JVP leader Anura Kumara Dissanayake at the NEC premises yesterday.
Pics by Pradeep Dilrukshana

Beefing up security for yesterday's nominations, some 1,200 police personnel strengthened by the Special Task Force (STF) and Criminal Investigations Department (CID) sleuths were on duty, monitoring and observing the proceedings.
The Police Media Unit said 493 election centres had been established across all police stations.
Mr. Deshapriya said along with the local authorities, the European Union, Commonwealth Health and South Asia's election monitoring groups would be out monitoring closer to November 16. The chairman noted five persons including the candidate would be permitted to enter the commission.

A team of top officials including the commissioner, Prof. Ratnajeevan Hoole, Director General Saman Ratnayake and Additional Commissioner Rasika Peiris led by Chairman Deshapriya officiated the acceptance of nominations.
Interestingly, the SLFP led by President Maithripala Sirisena has failed to contest this election as a political party and a constituent partner of a political alliance for the first time since 1952.
There were massive crowds gathered near the election secretariat to greet Sajith, Gotabaya and Anura.
Some 1,200 police personnel strengthened by the STF and CID sleuths were on duty
candidates
Sajith Premadasa
Gotabaya Rajapaksa
Anura Kumara Dissanayake
Ajantha Wijesinghe
Saman Prasanna Perera
Ariyawansa Dissanayake
Siritunga Jayasuriya
B.G. Nandimithra
Wajirapani Wijesiriwardana
Sarath Manamendra
Rohan Pallewatta
S.P. Liyanage
Battaramulle Seelarathana Thera
Duminda Nagamuwa
General Mahesh Senanayake
Aruna de Soyza
Ajantha de Soyza
Priyantha Edirisinghe
Namal Rajapaksa
Subramaniam Gunaratne
Jayantha Ketagoda
Siripala Amarasinghe
Aparakke Punnananda Thera
Milroy Fernando
Samansiri Herath
Vijithakumara Keerthiratne
Chaminda Anuruddha
Samaraweera Weerawanni
Ashoka Wadigamangawa
Idrus Mohamed
Piyasiri Wijenayake
Rajiva Wijesinghe
M.K. Sivajilingam
M.L.A.M. Hizbullah
Hassan Mohamed Alavi