---
the Hambantota Mirijjawela oil refinery project which the former government signed with Singaporean registered 'Silver Park International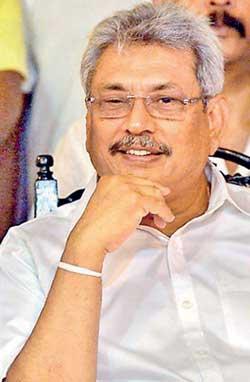 By Jamila Husain
President Gotabaya Rajapaksa is reported to have instructed his ministers to review all agreements signed during the tenure of the UNF government and re-negotiate them if they had violated the constitution.
The agreements which will come under the scanner include the Hambantota Mirijjawela oil refinery project which the former government signed with Singaporean registered 'Silver Park International' and agreements in the aviation and power sector.

Presidential spokesman Keheliya Rambukwella, when contacted by Daily Mirror confirmed that all agreements signed by the previous government would be reviewed under the President's instructions and the agreements which were not in Sri Lanka's favour would be re-negotiated with the foreign investors.

"The UNF government signed most of these agreements without parliamentary approval so we need to know what these agreements contain," he said.
When questioned if this move would dampen investor confidence, Mr. Rambukwella said such a move would send a global message that Sri Lanka was interested in attracting genuine investors and that Sri Lanka would maintain transparency in all its deals.

The President in his first foreign interview with Indian defence magazine "Bharat Shakti", said last Monday that even the Hambantota Port agreement with China would be renegotiated on the basis of a 99-year-lease was a mistake by the UNF government. The President said he would have no objection to giving the Chinese a terminal in the port for commercial use, but a national strategic and economic asset could not be given away like the way Hambantota was given away and that too for generations.

Sources from the Hambantota International Port, when contacted by Daily Mirror said they had seen the President's remarks but were yet to be officially contacted on this matter.
The President in his first foreign interview with Indian defence magazine "Bharat Shakti", said last Monday that even the Hambantota Port agreement with China would be renegotiated on the basis of a 99-year-lease was a mistake by the UNF government
Agreements which were not in Sri Lanka's favour would be re-negotiated with the foreign investors
The UNF government signed most of these agreements without parliamentary approval