---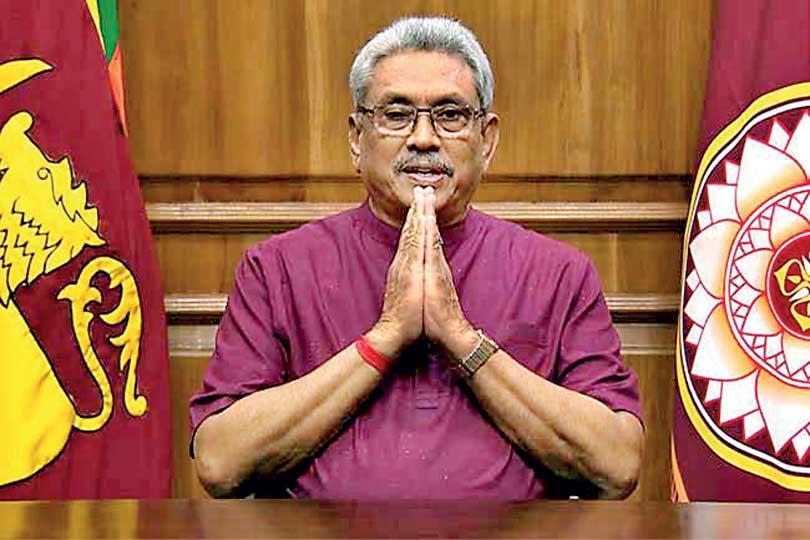 Achieved a lot amid challenges
Will not shy away from threats
By Kelum Bandara
President Gotabaya Rajapaksa, in his televised address to the nation, said that the newest outbreak of COVID-19 could be contained successfully in the similar fashion it was done during the first wave if all followed health guidelines and acted as responsible citizens.
In his address to the nation on the anniversary of his first year in office, the President said the government acts according to a plan. "While successfully containing the spread of the disease, our healthcare sector has been able to maintain a mortality rate of less that 0.05% of those diagnosed with the disease and referred for treatment," he said.

Noting that high infection rate of the new strain of virus is the cause for the rapid spread of the disease in the world, he said the past experience would be helpful in responding to the disaster this time in terms of detecting cases, contact tracing, testing and quarantine measures.

Commenting on development and economic policy initiatives during the first year, he said his government did a lot for the country amid challenges. He said the two - thirds majority recovered by his government after nine months into office bore testimony to it despite the organised disinformation campaign launched by the political opposition.
Making his remarks on the constitution, he said though the government was able to scrap the 19th Amendment with its loopholes, a few controversial grey constitutional areas still remained. "We have already appointed a Committee to seek public opinion to make a new constitution," he said.

President Rajapaksa said, "I am a person who constantly faced challenges and overcame them. I am not a person shying away from threats. I am not used to simply running away from problems. Instead, I resolve those issues. I do not want to please anyone only for the purpose of securing votes. As I have pledged, my determination is to build a prosperous nation.

I will not hesitate to take whatever action is necessary according to my conscience to achieve this target. I love my country. I am proud of my country. I have a vision for my country. This is the motherland of all of us. Hence, the time has come for all of us to join hands as productive citizens with the team spirit and fulfilling responsibilities in a disciplined manner," he said.
Healthcare sector able to maintain a mortality rate of less that 0.05% of those diagnosed