---
Resorting to 'Constitutional Thuggery' is unwarranted
Prez clearly told EC he has no idea to reconvene Parliament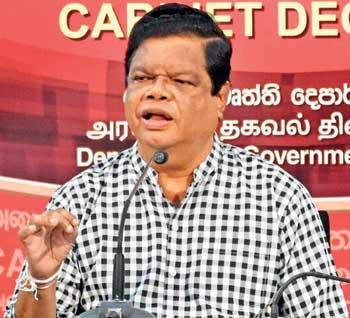 By Sandun A Jayasekera
The President has the power to obtain funds to run the state machinery until the expiry of three months from the date of the inaugural session of the new parliament and therefore no one should attempt to resort to 'Constitutional Thuggery' (chandikam) or worry about the running of the government, Cabinet spokesman and Minister Bandula Gunawardana said.
Minister Gunawardana emphasized that the President also had the power to obtain money for state functioning from the Consolidated Fund under the powers vested in him in subsection 3 of paragraph 150 of the Constitution which says 'Where the President dissolves Parliament before the Appropriation Bill for the financial year was passed into law, he may unless Parliament shall have made provision, authorise the issue from the Consolidated Fund and the expenditure of such sums as he may consider necessary for the public services until the expiry of a period of three months from the date on which the new Parliament is summoned to meet'.

"The President has very clearly told the Elections Commission (EC) that he did not intend to reconvene Parliament under any circumstances and also the responsibility of holding the general election and set the date for the election entirely rested in the hands of the Elections Commission," Minister Gunawardana said adding that President Gotabaya Rajapaksa has taken all the decisions on the dissolution of Parliament after consulting legal experts.
He told the media yesterday that all the rhetoric, arguments and comments on the dissolution of Parliament, the conducting of the election and reconvening of Parliament were out of context and unnecessary as the Constitution had clearly outlined the action that should be taken in such scenarios, Minister Gunawardana stressed.
He added that Parliament was dissolved in accordance to the provisions vested in the President from the Constitution after four and half years and as such he could not reconvene Parliament unless to impose Emergency or any other matter related to the Public Security Ordinance.

Minister Gunawardana expressed hope that the EC would hold Parliamentary polls at the right time without making room for a Constitutional crisis.