---
If any head of State institution or director board member wished to engage in party politics, they could do so after resigning
It is the commitment of the government to establish a people-friendly political culture with a strong State, a developed economy and a just society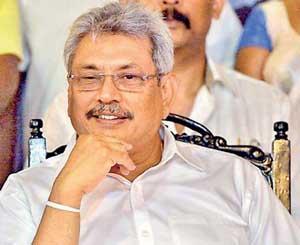 By Lahiru Pothmulla
President Gotabaya Rajapaksa said yesterday public sector officials including board members of State corporations and statutory bodies as well as members of director boards appointed by his government should refrain from engaging in propaganda of any political party and not use public assets during the upcoming election.
He said all officials paid by the public should work diligently, efficiently and honestly in discharging their duties. In a statement, President Rajapaksa said if any head of State institution or director board member wished to engage in party politics, they could do so after resigning.

"What they should do is to transform State institutions into efficient, corrupt-free, disciplined and profitable ones. State institutions are being maintained by public funds and therefore they should never become a burden to the public. No public asset including vehicles and financial resources of any State institution including ministries should be utilised to promote any political party in the upcoming election. Stern legal action will be taken against the heads of State institutions, director board members and other officials if they do so," he said.

The President said it was the commitment of the government to establish a people-friendly political culture with a strong State, a developed economy and a just society sans narrow political objectives. "The fullest cooperation of State heads is expected in this endeavour," he said.
No public asset including vehicles and financial resources of any State institution including ministries should be utilised to promote any political party in the upcoming election