---
Not given up talks with SLPP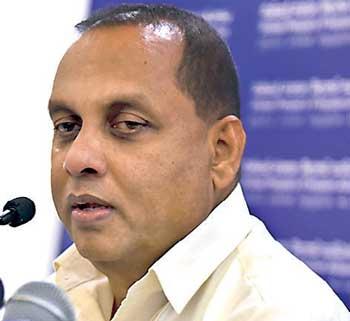 By Sheain Fernandopulle

President Maithripala Sirisena will announce the official stand of the Sri Lanka Freedom Party (SLFP) on the presidential election at the 68th SLFP annual convention to be held on September 3 at the Sugathadasa Indoor Stadium, Colombo, UPFA General Secretary Mahinda Amaraweera said yesterday.
Addressing a news briefing at the SLFP headquarters, he said they did not want to tarnish the identity and trust of the SLFP by holding talks with the Sri Lanka Podujana Peramuna (SLPP).

"If the SLFP is to come to an agreement with the SLPP to create the alliance, we need to know its policies and nevertheless they should agree to the SLFP polices as well. We don't want an individual to win but to ensure that our polices are upheld," Amaraweera said.

"It is indeed pathetic that none of the governments since 1977, have been able to carry out proper polices to put the country on the correct path. That's why we have prepared a set of optimistic policies which are to be presented to the SLPP members in order to get their consent," Amaraweera added. Moreover, Amaraweera said since Gotabaya Rajapaksa had not obtained the membership of the any political party, it would be easier for them to carry on the talks with him.

"However, if Gotabaya obtains the SLPP membership, it may hamper talks between the two parties," he said.

In addition, he said they had not yet given up discussions with regard to fielding a presidential candidate from the SLFP," he added.

Meanwhile, UPFA MP Weerakumara Dissanayake said there was a conspiracy within the SLPP to defeat Gotabaya Rajapaksa.

"A faction comprising some members who are around Gotabaya, are operating to weaken and antagonize Gotabaya with the people," MP Dissanayake said.