---
Concerns that the Port City will be used to illegally monitor the Colombo Port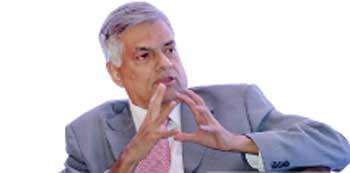 By Easwaran Rutnam
The Colombo Port City will have more powers than slain LTTE leader Vellupillai Prabhakaran when he was in control of parts of the North if the Colombo Port City Economic Commission Bill is approved, former Prime Minister Ranil Wickremesinghe said.
Prabakaran had control of a major portion of the North and East when Wickremesinghe was Prime Minister between 2001–2004.
In an interview with the Daily Mirror, Wickremesinghe said that he was surprised the very people who spoke of one country one law have now agreed to one country two laws.
Wickremesinghe had been accused of allowing Prabhakaran to create a de facto separate state in the North and East through a Norwegian facilitated peace agreement.
The LTTE had its own laws, including its own police unit before the rebels were defeated by the military in 2009.
Concerns have now been raised that the Colombo Port City will become a Chinese colony as a result of the Colombo Port City Economic Commission Bill.

"I have heard this being said about a Chinese colony, But what it can be is an area which will have more power than the area that Prabhakaran ran during the war. And I'm surprised the people who said one country one law are having two laws for the same country," Wickremesinghe told the Daily Mirror.

He also said that when he was Prime Minister between 2015 and 2019, some countries had raised concerns that the Port City will be used to illegally monitor the Colombo Port.

Wickremesinghe said that his Government did not want the Port to be monitored by outsiders from the Port City.
He said that the government at the time had raised the concerns with China and was working on a solution.