---
The car had been stolen after tying up the driver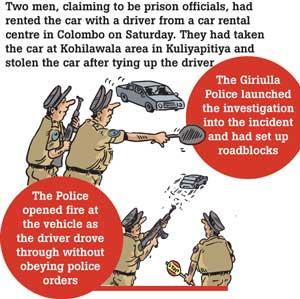 By Darshana Sanjeewa Balasuriya
The Police had opened fire at a car in the Giriulla area for defying orders it later transpired that the car had been stolen from Colombo.
The Police said that a car travelling from Pannala to Giriulla had been shot at in the Yakabedi Ella area yesterday morning.

No one was injured in the incident and the two people in the car were arrested. They said two men, claiming to be prison officials, rented a car with a driver from a car rental centre in Colombo on Saturday.

They said that the men had taken the car at Kohilawala area in Kuliyapitiya and hijacked the car after tying up the driver. The Giriulla Police launched the investigation into the incident and had set up roadblocks and inspected vehicles last morning in search of the hijacked car.