---
I will try my best to make the Police Department 100% clean, efficient and highly professional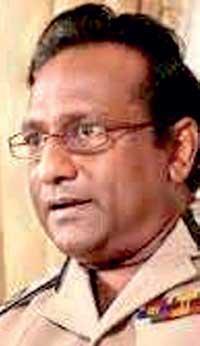 By Sandun A. Jayasekera
The Police Force that remains currently at 80,000 personnel will be increased to 100,000 to fight crimes in a more successful and vigorous manner, Minister of Public Security Rear Admiral Sarath Weerasekara said.
The Government would also increase salaries of Police personnel shortly and much delayed promotions to ASPs would be given before the end of 2020, he added.

"In the Police Department, 90% officers are honest, corruption free and duty bound. But we have about 10% of black sheep and they tarnish the good image of the Police Department. I will try my best during my tenure to make the Police Department 100% clean, efficient and highly professional," Minister Weerasekara noted.
Minister Weerasekara said that the Government was fully committed to wipe out all forms of crime in the country and to do that the Police Department had to be further strengthened.

"In the new look police force, all policemen must be technology savvy. For instance we have in mind to provide policemen on the beat a smart phone enabling him to download data of an offender like a picture of the law breaker, vehicle he or she travels, name and address and other personal information enabling the Police to take legal action quickly and easily," Minister Weerasekara stressed.

He also said with the increased number of policemen in a police station, the time a policeman serves outdoor could be reduced.

One of the priorities of the Police Department under his purview would be to find a sustainable solution to the ever increasing traffic congestions, in particular in Colombo, he said.

Commenting on the killing of a policeman at Kobeigane by illegal sand miners, the Minister said charges will be framed against the killer under the charge of first degree killing or pre-meditated murder. We have no mercy on this criminal who killed a policeman while on duty and all possible measures will be taken to give him the maximum punishment possible under the law," Minister Weerasekara said.
The Government was fully committed to wipe out all forms of crime in the country and to do that the Police Department had to be further strengthened