---
Late Premadasa tapered cutoff point from 12.5 to 5%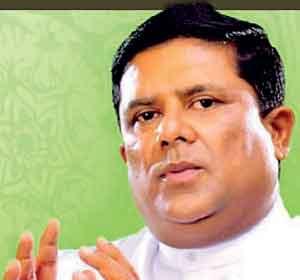 By Yohan Perera
UNP MP Vajira Abeywardena said yesterday his party lost the opportunity of forming a government on its own due to the constitutional amendment brought about by the late President R. Premadasa to reduce the cutoff point of votes from 12.5 to 5 per cent polled by a party to secure parliamentary representation.
"A party had to obtain more than 12 per cent of votes to have parliamentary representation before 1988. Therefore, it would have been possible for the UNP to form its own government after 1978. However, this opportunity was lost when the cutoff point was reduced to 5 per cent from 12 after the youth unrest. It was the late President Ranasinghe Premadasa who brought about this constitutional amendment. The UNP is suffering today because of this change. It is the present UNP leader Ranil Wickremesinghe who had to face the crisis brought about by the constitutional amendment. The UNP contested the general elections in 1977 under the elephant symbol. However, he said the late UNP leader President J.R. Jayewardene got into an alliance with the CWC of late Minister Saumiyamoorthy Thondaman. Mr. Thondaman's party too contested under elephant. However, Mr. Jayewardene appointed Mr. Thondaman to the UNP Working Committee. The UNP should take note of these factors when deciding on the symbol under which it is going to contest the general elections and make decisions diligently," he said, adding that the party would discuss the issue and take an appropriate decision.

When asked his opinion of the statement made by UNP Organiser Navin Dissanayake who suggested he be allowed to contest under the elephant symbol in the Nuwara Eliya District, Mr. Abeywardena said Mr. Dissanayake was correct in making that request. He said Mr. Dissanayake's request was in accordance with the UNP Constitution. When asked whether he too would demand for the elephant symbol, the MP said he would not make any demand now but await the final decision of the party.
Says Ranil has to face the crisis brought about by late President Premadasa through the constitutional amendment