---
Calls on Mahindananda to rectify his statement
Karuna is contesting the upcoming election from the Ampara district
Calls on his candidates to be more responsible
Says timing of such statements may hamper SLPP campaigns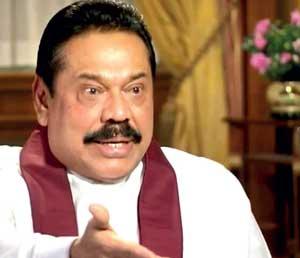 By Jamila Husain
Prime Minister Mahinda Rajapaksa has been severely angered at the recent controversial statements made by former ministers Karuna Amman and Mahindananda Aluthgamage and has called on his candidates to be more responsible when issuing statements during the election campaigns.
The Daily Mirror learns that as soon as Mahindananda's statement on the 2011 world cup final being fixed went viral on social media, attracting a lot of heat from former leading players including Kumar Sangakkara,Mahela Jayawardena, Aravinda De Silva and Arjuna Ranatunga, Mahindananda had been pulled up by the Prime Minister asking him to rectify his statement as it came nine years too late.

Following the heat from the Prime Minister, the Daily Mirror learns that the former sports minister is likely to hold a media briefing this week, stating his comments were blown out of proportion in order to do damage control.

Rajapaksa, who was the President at the time, had attended the final match played between India and Sri Lanka in Mumbai and had insisted that Sri Lanka should win the World Cup as a tribute to Muttiah Muralitharan who was set to retire from international cricket after that particular World Cup.

However Mahindananda has insisted the match was 'sold' to India leading to a fresh investigation.

Further, senior government sources said that the recent statement by Karuna Amman that he killed 2000 to 3000 army soldiers in one night at Elephant Pass and Kilinochchi when he was in the LTTE, as opposed to the number of lives claimed by the COVID-19 in Sri Lanka, had led to the Prime Minister calling on candidates to be more responsible when issuing statements.

The SLPP has been quick to distance itself from Karuna saying he was not a part of the SLPP or its affiliated groups. The SLPP released a quick statement on Monday distancing itself from Karuna saying the party condemned his statement and would not take the responsibility for it as he was neither a member of the SLPP nor a member of its affiliated group.
Karuna has since then said his statement was taken 'out of context'. Karuna, further stating that he refused a national list seat offered to him by the Prime Minister in the new Parliament soon after his controversial statement, also did not go well with Rajapaksa.

Karuna, speaking to Daily Mirror soon after his statement said that the Prime Minister was very fond of him but he had assured Rajapaksa that he would now enter Parliament through a people's mandate.

Karuna is contesting the upcoming election from the Ampara district. Meanwhile, the police said that although the CID had summoned Karuna for a statement, his lawyers informed the CID yesterday that he was unable to provide a statement presently due to ill health and will give a statement once he recovers.