---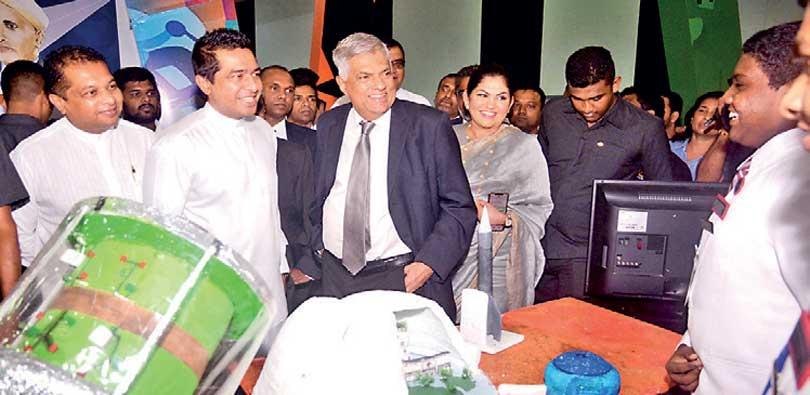 The 'Shilpasena' exhibition got underway yesterday. Here Prime Minister Ranil Wickremesinghe looks at a satellite model which was on display at the exhibition at the BMICH.
Pic By Pradeep Pathirana
By Yohan Perera
Sri Lanka's higher education sector needs to be modernized in order to teach students new technology such as artificial intelligence, disruptive technology and blockchain, Prime Minister Ranil Wickremesinghe said yesterday.
Mr. Wickremesinghe expressed this sentiment speaking at the opening of 'Shilpasena' exhibition at BMICH last morning.

"We need to embrace artificial intelligence, disruptive technology and block chain. This is our way forward. Sri Lanka is no longer a low income earning nation. This is a middle income earning nation. Sri Lanka can no longer compete with Bangladesh in the apparel sector. We need to embrace new technology to stay competitive. Every sector needs to be modernized with new technology. Lets support those who are already in the science and technology sector for a start," the Prime Minister said. "If someone says Sri Lanka does not need the latest technology , but can survive growing crops for consumption , there is no better way to destroy the nation. We need programmes such as Shilpasena to go forward as a nation. The biggest issue which Sri Lanka faces today is the absence of a proper education system. This is why we have focused on providing proper teachers and infrastructure facilities to the schools. We have decided to provide a tab to grade 12 students in national schools as a pilot project. Provincial schools which have WIFI will be given tabs in the second phase of this program.
The biggest issue which Sri Lanka faces today is the absence of a proper education system