---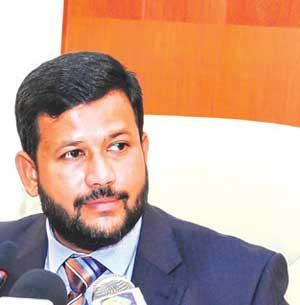 By Yoshitha Perera
Presidential Commission of Inquiry (PCoI) probing Easter Sunday attacks yesterday interrogated former Minister MP Rishad Bathiudeen regarding the abuse of vehicles belonging to Sathosa retail chain to carry out work of the Organisation for Habitation and Resource Development (OHRD) which is a non-governmental organisation operated by his relatives.
Testifying before the Commission MP Bathiudeen said that he was unaware of the misuse of Sathosa vehicles for OHRD work. The representative from the Attorney General's (AG) Department informed the Commission currently MP Bathiudeen's father-in-law is the Chairman of the OHRD. Commission also questioned the witness that a large amount of foreign funds were received by the Organisation from several Arabic countries.
Responding to the question MP Bathiudeen said that the OHRD was assisting persons displaced due to the war and taking measures to help many people in the country. "I was the Minister of Industry and Commerce during the particular period. I had to supervise 42 institutions. I don't know how the minor staff of these institutions had used such facilities provided by the Ministry and Sathosa," he said. Meanwhile, Attorney-at-Law Rushdie Habib appearing for MP Bathiudeen raised his objections mentioning that the line of questioning conducted by the AG's department was irrelevant to the Commission's mandate.
Responding to the statement given by MP Bathiudeen's lawyer, Commissioner said that the mandate of the Commission is not only probing bomb attacks but to record evidence pertaining to relevant organisations assisting the Islamic extremists in the country.

"We already have evidence that the OHRD had received large amount of money from foreign countries and the Commission had to probe that and for what reason the organisation used this money," Commissioner said. Later, MP Bathiudeen said that if any official attached to Sathosa had misused vehicles belonging to Sathosa that particular official has to be punished not him as the then Minister since he had not given any written approval to use these vehicles.